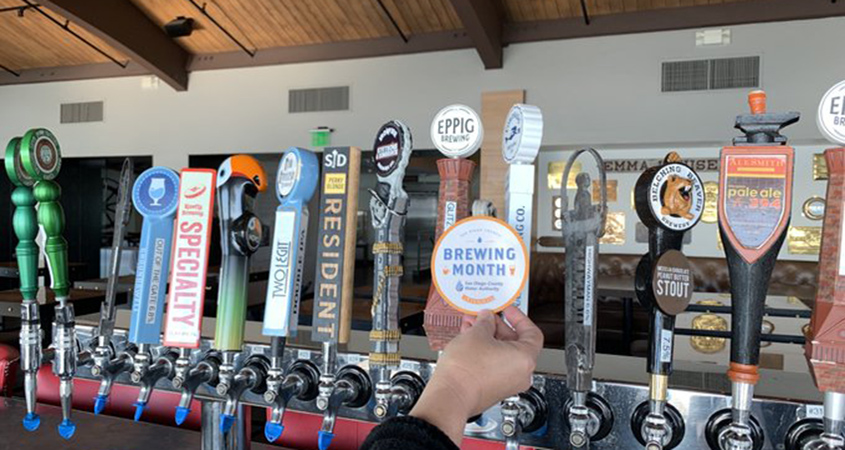 As the nation's "Capital of Craft," San Diego County is home to more than 150 breweries that boast nearly 6,500 local jobs. In 2018, the regional craft beer industry produced $1.2 billion in economic impact, according to a report by California State University San Marcos and the San Diego Brewers Guild.
California has more operational craft breweries than any other state in the country. As of January 2019, 155 independent craft brewers were operating in San Diego County.
The regional economic benefits generated by the industry would not be possible without the safe and reliable water supply that the San Diego County Water Authority and its 24 member agencies deliver to the region every day.
Craft Beer Con highlights importance of water efficiency
As part of an ongoing partnership with the Brewers Guild, the Water Authority sponsored the 2019 Craft Beer Con industry event at CSU San Marcos. Dozens of industry professionals attended the event to network and see the release of the new economic findings.
In addition to the $1.2 billion in economic impact in 2018, the report showed that San Diego brewers produced 1.13 million barrels in 2018. The industry also had a philanthropic impact, donating an estimated $5 million to regional nonprofits. Overall, the industry's economic impact grew 6% since 2017.
"Beer can be 90-95% water," said Jeff Stephenson, a principal water resources specialist at the Water Authority. "Water is essential to every step of the process, not only for the final product, but for cooling, packaging and cleaning."
Stephenson was part of an expert panel at Craft Beer Con, discussing water-use efficiency in brewing, the continued partnership between water agencies and the region's growing craft beer industry.
Regional investments in a clean and reliable water supply
Regional investments in water infrastructure have paved the way to ensuring a safe and reliable water supply that can sustain industries like the craft beer industry and fuel San Diego County's $231 billion economy.
Water-use efficiency technology and equipment have also helped brewers streamline production and reduce their water costs while producing high quality products.
The craft brewing industry and those who work closely with it have a positive outlook.
In a survey that CSU San Marcos conducts each year, participants showed high confidence in the industry, with interests in increasing hiring and investments and confidence that production and distribution volume will continue to grow.
https://www.waternewsnetwork.com/wp-content/uploads/2019/08/Brewing-Month-2019-Water-Authority-RB.jpg
450
845
Kristiene Gong
https://www.waternewsnetwork.com/wp-content/uploads/2018/02/water-news-network.png
Kristiene Gong
2019-08-20 15:33:12
2019-08-20 16:20:13
Craft Beer Industry Economic Impact in San Diego Rises to $1.2 Billion