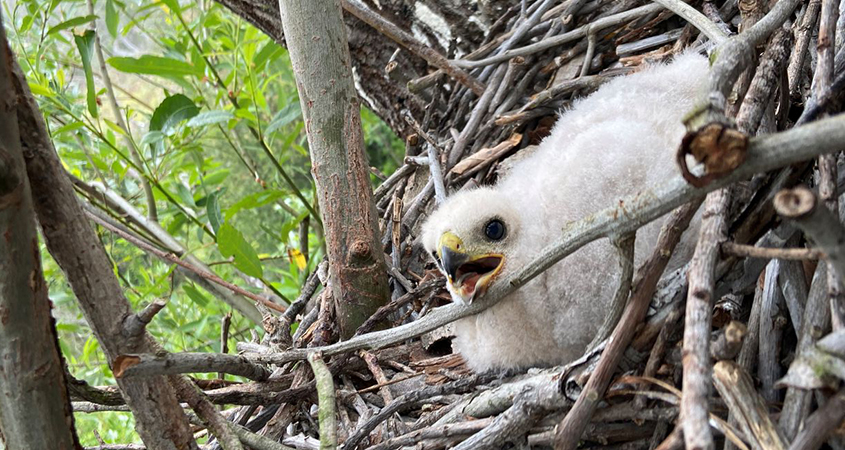 A Cooper's hawk chick and its nest received special attention after being discovered recently near a San Diego County Water Authority construction project.
Environmental surveyors spotted the nest on March 27 south of Gopher Canyon Road during the Pipeline 5 repair project in Moosa Canyon in North San Diego County.
Water Resources staff worked with construction and right-of-way staff to minimize and monitor work activities in the nest area.
Conservation strategy protects wildlife, environment
Limiting disturbance to the Cooper's hawk chick and nest is part of the Water Authority's commitments to its Natural Communities Conservation Plan and Habitat Conservation Plan, or NCCP/HCP.
The NCCP/HCP plan, approved by the U.S. Fish and Wildlife Service and California Department of Fish and Game in December 2011, provides goals, guidelines, and specifications that comprise the Water Authority's Conservation Strategy for biological resources within its San Diego County Service Area and a portion of southwestern Riverside County.
When the repair work was completed, Water Resource staff contacted the nonprofit group Bloom Research Inc. and biologists with Bio-Studies Inc., who are studying raptors in Southern California.
"I met with biologist Dustin Janeke May 25th at the nest location and the single chick was retrieved by climbing approximately 35 feet up the nest tree and carefully placing it in a travel bag and bringing the chick down," said Summer Adleberg, Water Authority environmental biologist.
Cooper's hawk chick data check
Adleberg said biologists collected data from the chick, including approximate age, size, sex and overall health, and they attached a USGS band to the bird's right ankle. The band has a unique eight digit code that is entered into a federal bird banding database.
In general, bird banding allows scientists to study the Cooper's hawk migration, behavior, survival rate, reproductive success and population growth.
If this bird is ever encountered again in the future, the band number will provide information as to exactly where and when this bird was banded. Pete Bloom, of Bloom Research Inc. is studying the natal dispersal behavior of raptors throughout Southern California. Biologist Janeke with Bio-Studies is a permit-authorized volunteer assisting Bloom's research projects.
The 'chick check-up' showed the Cooper's hawk was a male estimated to be 2-3 weeks old, weighed about two ounces, and it had started developing tail and wing feathers, with a wing about 2 inches long.
When the data collection was completed, the chick was returned to its nest. Adleberg said the chick was expected to stay in the nest for another 2 to 3 weeks before it fledged and moved out on its own.
https://www.waternewsnetwork.com/wp-content/uploads/2020/06/CoopersHawkChickNest_PRIMARY-Pipeline5.jpg
450
845
Ed Joyce
https://www.waternewsnetwork.com/wp-content/uploads/2018/02/water-news-network.png
Ed Joyce
2020-06-16 06:22:24
2020-06-17 07:57:32
Cooper's Hawk Chick Gets Special Handling near Pipeline 5 Project