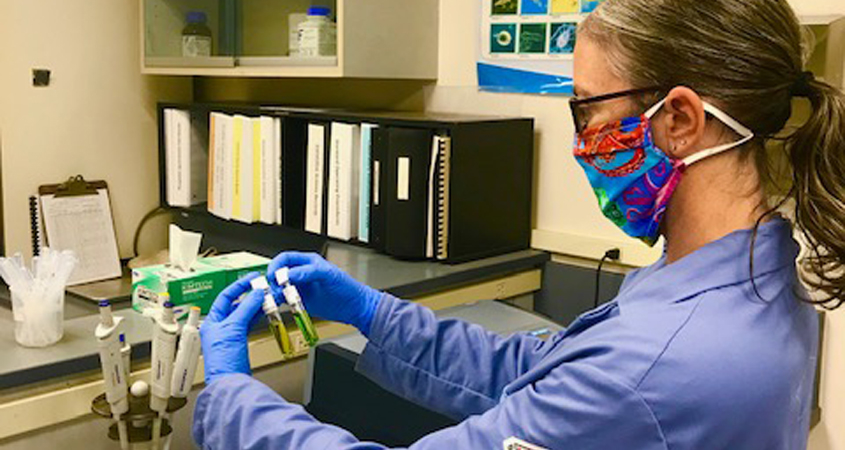 Multiple California water associations and water agencies in San Diego County are offering college scholarships to help candidates achieve their goals.
A large number of recent retirements combined with the need for a skilled workforce up to date on new technologies have resulted in a critical need to increase the talent pool of skilled individuals in the water and wastewater industry, including in San Diego County.
Scholarships are available for community colleges, four-year colleges and universities, and graduate-level programs. The following examples are due in the coming weeks for study in the 2022-2023 academic school year.
San Diego regional water scholarships
The Mark Watton Scholarship Fund, established by the Otay Water District at the Foundation for Grossmont and Cuyamaca Colleges, supports students attending the Center for Water Studies at Cuyamaca College. It honors Otay Water District General Manager Mark Watton's four decades of service to the district.
Applicants must be currently enrolled for at least six units at Cuyamaca College, verify financial need, and complete the general application and essay. Scholarships of $1,000 are available. The Otay Water District is continuing to accept donations to the Mark Watton Scholarship Fund.
Students can contact scholarship specialist Ernest Williams at 619-660-4537 or email for more information.
The Helix Water District offers two $1,000 scholarships to graduating high school seniors living within the district's service area who will begin their university studies next fall. Applications are due March 4 for the Dr. Lillian M. Childs Scholarship and the Robert D. Friedgen Scholarship, which both provide help with freshman year expenses. The scholarship committee reviews each applicant's grades, extracurricular activities, volunteer and work experience, academic and career goals, and financial needs.
High school seniors must graduate in the Class of 2022 this spring and attend a four-year college or university next fall. Students submit a two-page essay answering the question, "What is potable reuse and East County Advanced Water Purification?"
Deadline: March 4, 2022. Application Link. Students can verify their eligibility at 619-466-0585.
The Vista Irrigation District offers up to six scholarships between $1,000 and $3,000 to high school students living or attending school within the district. The purpose of the scholarship program is to increase knowledge and awareness of water-related issues impacting their community. Students who compete for a scholarship must complete an essay and provide a personal statement. Selection criteria also include community involvement or volunteer service.
Deadline: February 25, 2022. Application Link. Students can call Alisa Nichols at 760-597-3173 with questions or to request application information.
California water industry group scholarships
The Water Environment Federation's (WEF) Canham Graduate Studies scholarship provides $25,000 for a post-baccalaureate student in the water environment field. The scholarship is for education-related expenses such as room and board, tuition and books. The scholarship may not be used to cover stipends or wages.
The applicant must be a WEF member, complete an online application, and be enrolled in a graduate program. Recipients must commit to working in the water industry for two years following graduation.
Deadline: March 1, 2022. Application Link. For questions, email Tori Cox at
The Association of California Water Agencies offers a $3,500 scholarship to qualified applicants attending a University of California or California State University school pursuing an undergraduate degree in a water-resources related field such as engineering, agriculture, environmental studies, or public administration. The applicant must be a junior or senior attending full-time during the 2021-2022 school year.  Criteria include scholastic achievement and motivation to the vocation of water-resources management.
ACWA also offers the new John P. Fraser Water Leaders Fellowship to a currently employed water professional at an ACWA member agency selected to participate in the Water Education Foundation's annual William R. Gianelli Water Leaders Class. The program is named in honor of ACWA's former executive director for his 22 years of service.
Deadline: March 1, 2022. Application Link. For questions, call 916-441-4545 or email .
The California-Nevada section of the American Water Works Association awards more than $20,000 in scholarships in support of students and professionals pursuing careers in a drinking water-related field. Two $5,000 graduate scholarships, four $2,500 undergraduate scholarships, and two $1,000 scholarships in support of training as a drinking water treatment/distribution operator are available.
Suitable candidates include environmental and civil engineers; water, wastewater and recycling treatment plant operators; distribution system operators; chemists; laboratory technicians; biologists, ecologists and environmental scientists; and others whose roles support safe and reliable drinking water.
Deadline: March 15, 2022. Application Link. For information, call 909-481-7200 or email 
With approximately 1,400 water and wastewater jobs expected to open up across San Diego County in the next five years due to retirements, water industry careers offer promising lifelong professional opportunities. For more information, visit sandiegowaterworks.org.
(Editor's note: The Helix Water District, Otay Water District, Vista Irrigation District, City of Escondido, and the Vallecitos Water District, are five of the San Diego County Water Authority's 24 member agencies that deliver water across the metropolitan San Diego region.)
https://www.waternewsnetwork.com/wp-content/uploads/2020/04/Escondido-Sarah-Shepard_4173-845X450.jpg
450
845
Gayle Falkenthal
https://www.waternewsnetwork.com/wp-content/uploads/2018/02/water-news-network.png
Gayle Falkenthal
2022-01-20 09:07:24
2022-01-20 13:04:19
College Scholarships Offered for Water Industry Education