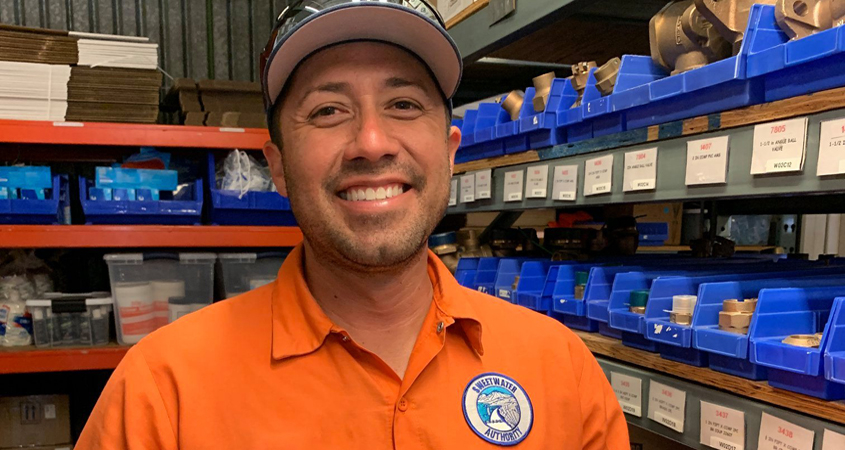 For his initiative in designing and creating a new tool designed to improve safety and efficiency on the job, Sweetwater Authority employee Julio Salazar won the Association of California Water Agencies Joint Powers Insurance Authority  H.R. LaBounty Safety Award.
The award recognized Salazar for creating a 'Large AMS Stabilizing Tool.' Salazar's design resulted in making the process of replacing 1.5 inch and two inch angle meter stops, or AMS, easier, more ergonomic, and safer.
"Our water professionals are industry leaders, finding new ways to work smarter and safer," said Tish Berge, general manager. "Sweetwater Authority could not be more proud of Julio's tool and much deserved recognition."
The H.R. LaBounty Safety Award recognizes water industry employees who implement significant safety improvements to prevent occupational injuries/illness. Winners are recognized twice a year.
See a demonstration of the new award-winning tool.
Salazar, a Utility Worker II with Sweetwater, came up with the idea after talking with co-workers about ways to improve the process. In the past, replacing an AMS often required employees to break out the meter box in order to make enough space to fit large wrenches and tools.
The process was often awkward and difficult, adding strain on the employee who had to remove the AMS at an odd angle. The concrete panel would also need to be replaced, adding to the time, cost, and safety risk associated with the replacement.
The new tool is designed to secure the AMS using meter bolts, and can be placed in-line with the service lateral. Once secured, an employee can simply use an adjustable wrench to loosen or tighten the bottom nut on the AMS. It eliminates the need to break the meter box, and gives the employee a more comfortable, ergonomic grip while working. It also makes the process safer.
Salazar says the design is similar to existing stabilizing tools, but there was nothing quite the right size for the 1.5 inch and 2 inch AMS – until now.
Water industry professionals recognized for safety improvements
The Association of California Water Agencies Joint Powers Insurance Authority – ACWA JPIA for short – is a partnership of water agencies dedicated to avoiding the high cost of commercial insurance. JPIA is a risk-sharing pool for property, liability, workers' compensation and employee benefits, which allows for more rate stability for customers, broader coverage and expanded benefits and services than private insurance.
https://www.waternewsnetwork.com/wp-content/uploads/2019/08/Sweetwater-Julio-Award-Winner-845X450.jpg
450
845
Gayle Falkenthal
https://www.waternewsnetwork.com/wp-content/uploads/2018/02/water-news-network.png
Gayle Falkenthal
2019-08-06 17:06:35
2019-08-06 17:43:20
Award-Winning, Time-Saving Tool Created by Sweetwater Authority Employee