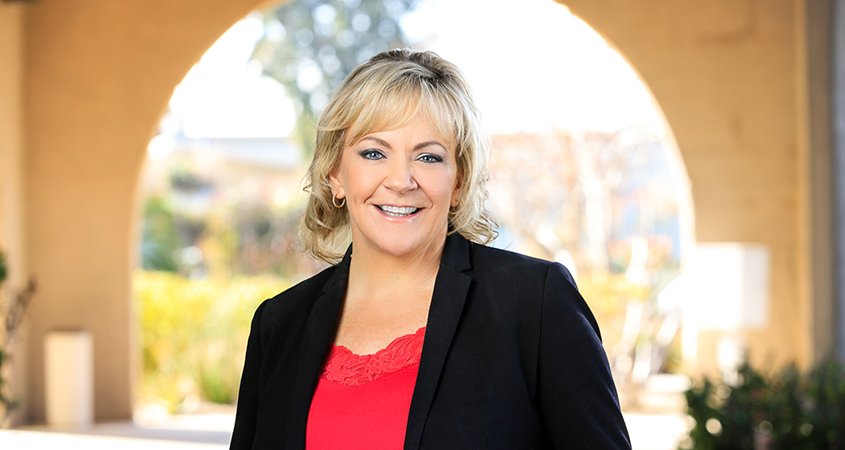 Editor's Note: This feature highlights new members of the San Diego County Water Authority's 36-member Board of Directors. Each of the Water Authority's 24 member agencies appoints at least one representative to the Board, which sets policy for the Water Authority.
Welcome to the Board: Kimberly Thorner, Olivenhain Municipal Water District
Who: Kimberly Thorner was seated on the Board of Directors on January 6, 2021, representing the Olivenhain Municipal Water District. Director Thorner serves on the Administrative and Finance, Audit and Engineering and Operations committees for the Water Authority. She was formerly a member of the Fiscal Sustainability Task Force.
Background/Education: Thorner earned a bachelor's degree in political science from the University of Colorado (Boulder) and a juris doctor from Thomas Jefferson School of Law in San Diego. She began her tenure with OMWD in October 1996 and was unanimously selected by the Board of Directors to become OMWD's fourth general manager beginning January 1, 2007.
Water Industry Affiliations:
Chair of the San Diego Local Agency Formation Commission Special Districts Advisory Committee; San Diego LAFCO Advisory Committee on Rainbow-Fallbrook Reorganization; San Diego LAFCO Subcommittee on the Update to Agricultural and Open Space Lands Policy, and the San Diego LAFCO Subcommittee on GSA's.
San Diego Integrated Regional Water Management Regional Advisory Committee
WateReuse California (WRCA) Board of Trustees (currently Secretary of the WRCA Board)
Association of California Water Agencies Federal Affairs Committee
North San Diego Water Reuse Coalition
David C. McCollom Water Treatment Plant, Prior Project Manager
Q & A
Q: How did you get interested in water issues?
A: Water is my life. I am quickly approaching my 25th year in the water industry. I started locally, working on treatment plant projects, dams, outreach and conservation. As my tenure in the industry expanded, so did my participation at an expanded level – being involved in statewide and federal water issues, committees and boards. I've never had a boring day in the water industry!
Q: What are your priorities or interests as a Board member?
A: My first priorities are the basics – safe, reliable, and affordable water for the San Diego region. None of the member agencies can be successful in providing safe, reliable, and affordable water if SDCWA is not successful. I am looking forward to participating in the continued success of SDCWA. My second priorities are the essentials – transparency, openness and collaboration. Working together openly and honestly in order to move forward for the advantage of the region is important.
Q: Besides maintaining safe and reliable water supplies, what do you see as the top three issues facing the San Diego region?
A: After Safe and Reliable supplies, I would say: Affordability. Dwindling Demand. Maintaining Current Infrastructure.
Q: What do you like to do when you are not working?
A: I'm always working, unless I am off the grid summiting a mountain or spending time with my two daughters. I guide friends up Mt. Whitney and Rim2Rim of the Grand Canyon every year. Someone has to check the snowpack up there in the Sierra and the flow of the Colorado River in the canyon!
The Water Authority's Board of Directors typically meets on the fourth Thursday of each month. The Board invites the public to attend its monthly meetings and to comment on agenda items or other matters before the Board. For meeting times, agendas and documents, go to​ www.sdcwa.org/board-directors.
https://www.waternewsnetwork.com/wp-content/uploads/2021/02/Kim-Thorner-020321-Primary.jpg
450
845
Ed Joyce
https://www.waternewsnetwork.com/wp-content/uploads/2018/02/water-news-network.png
Ed Joyce
2021-03-17 08:05:05
2021-03-17 08:05:05
Welcome to the Board: Kimberly Thorner, Olivenhain Municipal Water District