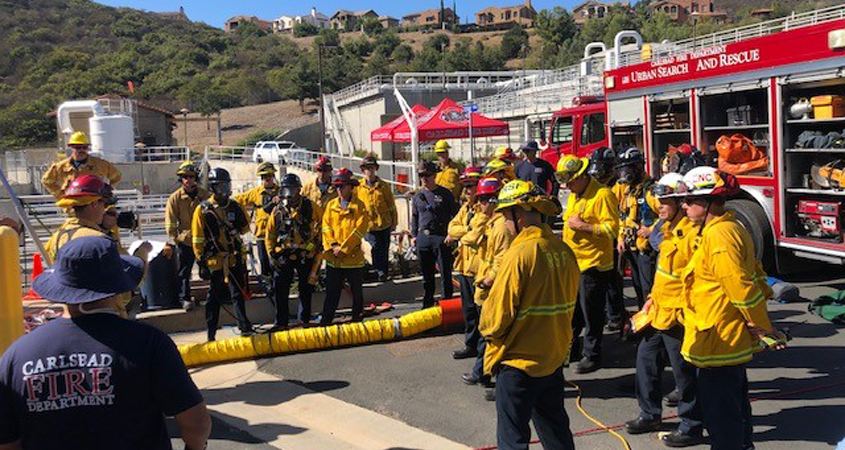 North San Diego County fire agencies teamed up in November with the Vallecitos Water District for confined space training drills. The drills, held over a two-week period, prepare firefighting professionals to respond to emergencies in facilities such as wastewater treatment plants and maintain their confined space certification.
The recent training took place at the Vallecitos Water District's Meadowlark Reclamation Facility. Firefighters saw how the wastewater plant operates while getting a walk through of the facility. Fire personnel worked with Vallecitos staff and both groups benefited from the opportunity to understand each other's equipment and protocols.
"The confined space training with the fire agencies has helped prepare us for future scenarios that could happen at the plant," said Dawn McDougle, wastewater plant supervisor.
Video of the training drills conducted by the fire agencies and Vallecitos Water District.
The Meadowlark facility was chosen because it provided both vertical and horizontal confined spaces for training drills. McDougle suggested the facility storm wet well be used for the confined space exercise since it is relatively environmentally clean.
Collaboration results in more efficient response to emergencies
Eight different fire agencies trained during morning or afternoon sessions, breaking up groups for various skill set station drills. Stations included an "Arizona vortex," a new piece of equipment fire agencies use for rescues; a review of confined space rescue equipment; and training in confined space permit requirements. Confined space permits are required by OSHA before making any kind of confined space entry or rescue.
Meadowlark staff reviewed the conditions and possible actions within filter station space with fire crews. Staff also explained decision-making for confined space entry, and conditions they might encounter, such as chemical exposure, and lock-out/tag-out requirements.
The training wrapped up with an all-hands mock confined space drill scenario at the Meadowlark storm wet well. Participants were required to respond to a simulated mechanical failure with a station pump, leaving Vallecitos staff "trapped" in a hole. First responders needed to "rescue" Vallecitos staff. Fire department personnel used the vortex system to rescue personnel trapped in the stormwater wet well. As part of the rescue scenario, fire teams incorporated Vallecitos staff involvement in the rescue mission.
Vallecitos wastewater collection crews also completed the confined space training with the firefighters.
Fire agencies were impressed with the staff and their operation of the Meadowlark Reclamation Facility. As a result of training, fire agencies can now respond more efficiently and with confidence.
"We appreciate the collaboration with fire agencies and the time they took to explain their procedures to Vallecitos District staff," said McDougle. "We look forward to future training with the fire agencies." 
Firefighting agencies participating in the training included crews from the cities of Carlsbad, San Marcos, Del Mar, Vista, Escondido, Oceanside, Encinitas, Solana Beach, Rancho Santa Fe, Valley Center, and crews from North County Fire (Fallbrook), San Pasqual and Rincon.
https://www.waternewsnetwork.com/wp-content/uploads/2019/12/VWD-Firefighters-2-845X450.jpg
453
845
Gayle Falkenthal
https://www.waternewsnetwork.com/wp-content/uploads/2018/02/water-news-network.png
Gayle Falkenthal
2020-01-06 08:12:37
2020-01-07 16:53:20
Vallecitos Water District Training Preps Firefighters for Wastewater Plant Emergencies