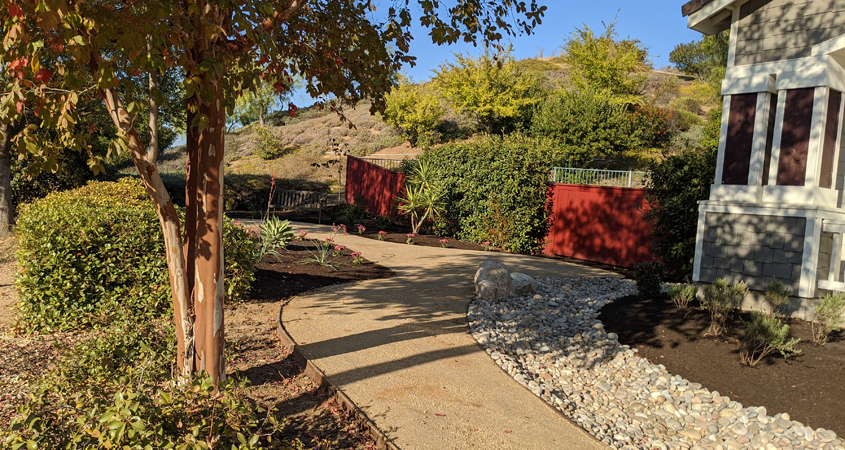 Vallecitos Water District Development Services Coordinator Eileen Koonce transformed the front yard at her new home into a beautiful water-efficient design with help from the San Diego County Water Authority's Landscape Makeover Program.
As a new homeowner, when Koonce received her first water bill, she decided to figure out a way to reduce her water bill and her water usage. She realized the thirsty lawn covering the front yard had to go.
"As an employee of the District, we are always talking to customers about how they can reduce water use in their landscape, and what better time to put that theme to use than in my own yard," said Koonce.
The Vallecitos Water District was hosting the Water Authority's WaterSmart Landscape Makeover Program at the time. After Koonce saw the great turnout, she decided she wanted to participate in the program.
Knowledgeable instructors guide participants
Koonce said she enjoyed working with the instructors.
"They bring the language down to the do-it-yourselfers," she said. "They walk you through every part of it and if you have questions, they can help you out. You feel empowered because you can understand the process."
Koonce tackled most of the design work herself with the help of instructors, who are licensed landscape architects. They also helped Koonce pick out the plants and choose an irrigation system.
She also applied for a turf rebate through the Metropolitan Water District's Turf Rebate Program. Koonce said the application process was easy for her to follow, and she met all the criteria for acceptance into the program.
Video tour of Eileen Koonce's new landscaping
New landscape a pollinators' paradise
Koonce wanted a garden that would attract butterflies and birds, especially hummingbirds. She says her top takeaway from the WaterSmart course is how many attractive landscape options exist. Many beautiful, flowering plants do not require a lot of water.
"The WaterSmart Landscape Makeover Series is a great way to gather the skills needed to make your front yard transformation happen," said Michelle Landis, course instructor and Registered Landscape Architect. "The WaterSmart Landscape Makeover Series also teaches the skills needed to tap into the new, local turf removal rebates. We invite you to join us for one of the sessions above to transform your front yard into money-saving, WaterSmart design."
Koonce said she realizes a $70 per month savings on her water bill since her landscape makeover. And no longer spends time mowing a lawn.
Register now for workshops and class series
The WaterSmart education program offers free three-hour workshops and a four-class landscaping makeover series. Three-hour workshops are scheduled on weeknights and Saturdays from March through October.
The four-class series is currently enrolling participants for March in Encinitas and in El Cajon. The series is also open in Oceanside and San Diego in April. Find participation requirements and register for the free series online at WaterSmartSD.org.
https://www.waternewsnetwork.com/wp-content/uploads/2020/02/VWD-Landscaping-path-845X450.jpg
450
845
Gayle Falkenthal
https://www.waternewsnetwork.com/wp-content/uploads/2018/02/water-news-network.png
Gayle Falkenthal
2020-02-29 13:07:54
2020-02-29 14:42:40
Vallecitos Water District Employee Leads By Example With WaterSmart Landscaping Makeover