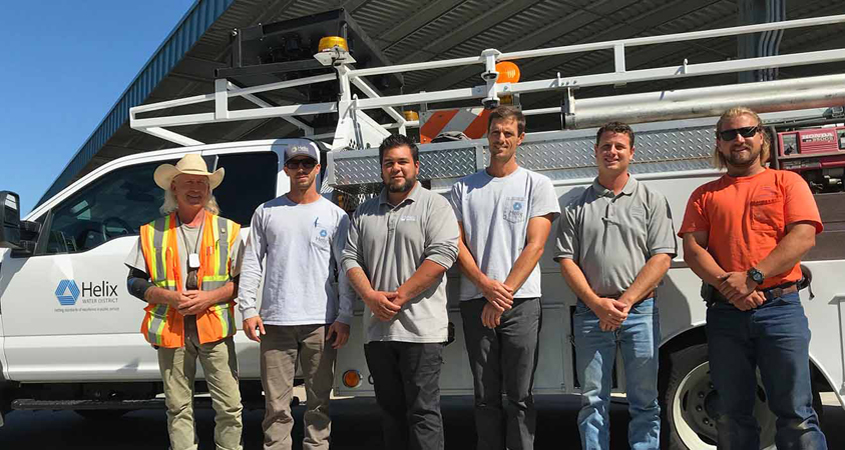 Six water professionals from the Helix Water District and Padre Dam Municipal Water District spent one week in August assisting the Paradise Irrigation District with disaster recovery in the wake of the devastating Camp Fire.
The Camp Fire burned through the town of Paradise, California in November 2018. CAL FIRE reported the fire burned 153,336 acres, destroyed 18,804 structures and resulted in 85 civilian fatalities and several firefighter injuries. The Camp Fire is the deadliest and most destructive fire in California history, according to CAL FIRE.
Ten months later, Paradise remains hard at work on recovery efforts.
The fire caused significant damage to the Paradise Irrigation District's infrastructure. As a result, more than 10,500 customers fell under a "Do Not Drink" advisory due to contamination from several harmful volatile organic compounds in distribution pipelines.
Padre Dam employees Austin Darley and Jesse Knowles, and Helix employees John Wilson, Dan Baker, Eric Hughes and Bryan Watte, spent a week in Paradise working to help ensure water system safety. While most customers have water service restored, the water quality is being carefully monitored.
"The majority of the work we did revolved around keeping customers in water during a three-day testing period, and reestablishing water service through a plastic jumper after samples had been drawn," said Darley.
State emergency assistance system activated to provide mutual aid
Helix and Padre Dam are among 14 member agencies and the Water Authority participating in the California Water/Wastewater Agency Response Network, or CalWARN, to support and promote statewide emergency preparedness, disaster response, and mutual assistance processes for public and private water and wastewater utilities.
"This program is like an insurance policy that can provide assistance when an emergency becomes larger than our internal resources can deal with," said Melissa McChesney, Padre Dam Communications Manager. "The situation Paradise Irrigation District finds themselves in is a good example of this. We also have agreements with neighboring water agencies in which we call upon each other for equipment or staffing when needed."
The agencies identified staff with the skills and experience to help the Paradise Irrigation District. All agreed to volunteer for the mutual aid mission. Padre Dam employees Jesse Knowles and Austin Darley were selected to help.
"Jesse and I feel very blessed to work for an organization that is passionate about helping those in need," said Darley. "It was an important reminder that recovery efforts continue long after the disaster leaves the news. Paradise is still in need of our thoughts, prayers, and help."
Recovery effort not over for Paradise Irrigation District
"There's a lot of work up here but the town is healing," wrote Helix employee Dan Baker while working in Paradise. "I think I speak for all four of us when I say I'm proud to be a part of this."
Water service for burned lots will be replaced as recovery progresses and new homes are built.
"It is a privilege to have the opportunity to assist our fellow Californians with this recovery effort," added Darley. "Although we exist 600 miles apart we all have the same goal, to deliver safe and reliable drinking water to our residents and communities."
https://www.waternewsnetwork.com/wp-content/uploads/2019/09/Helix-and-PD-Crew-845x450.jpg
450
845
Gayle Falkenthal
https://www.waternewsnetwork.com/wp-content/uploads/2018/02/water-news-network.png
Gayle Falkenthal
2019-09-03 09:25:10
2019-09-10 08:17:29
San Diego Water Pros Aid Paradise Irrigation District Following Camp Fire