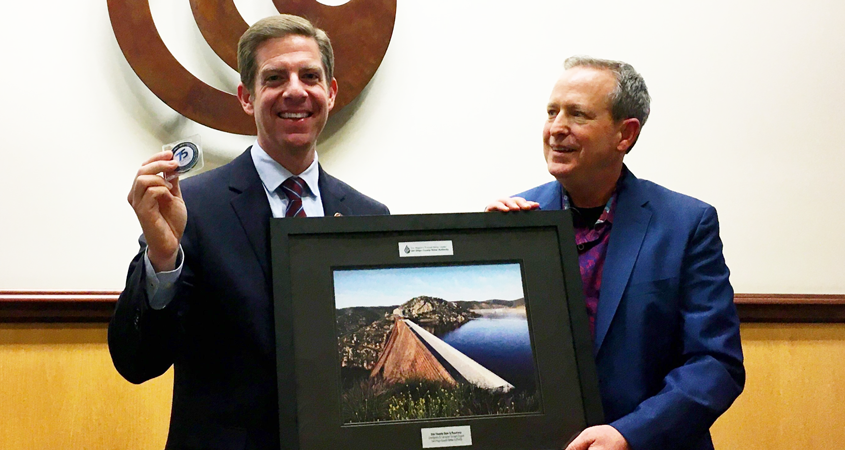 Rep. Mike Levin said California's innovations and investments in water supply reliability and renewable energy are a model for the nation – and that the state's efforts protect the environment while growing the economy at the same time.
Levin, an attorney and congressman from San Juan Capistrano, represents the 49th District, which includes, Encinitas, Carlsbad, Vista, Oceanside and a portion of southern Orange County.
He made his remarks November 6 during a Legislative Roundtable at the San Diego County Water Authority attended by water agency board members and staff, local civic and business leaders and Citizens Water Academy graduates.
Water supply reliability through supply diversification
"We need a diverse array of resources for water," said Levin. "Water is a finite resource that we often take for granted."
The Water Authority periodically holds Legislative Roundtables to hear about water-related issues in Washington, D.C. and Sacramento. More than 60 people attended the Wednesday event, asking Levin a variety of questions about water, energy and climate change.
In his first 11 months in office, he has sponsored and co-sponsored the following bills:
Border Water Infrastructure Improvement Act
Desalination Development Act
Water Recycling Investment and Improvement Act
Land and Water Conservation Fund Permanent Funding Act
Colorado River Drought Contingency Plan Authorization Act
Desalination Development Act introduced
Levin cited the Claude "Bud" Lewis Carlsbad Desalination Plant as an example of the "deep innovation" necessary to increase sustainability, referencing legislation he introduced to increase federal funding for desalination projects.
He introduced that legislation in July 2019 to raise the funding authorization in the Water Infrastructure Improvements for the Nation Act for desalination projects to $260 million.
Levin said his bill would help strengthen regional water supplies by supporting projects like the South Coast Water District's Doheny Ocean Desalination Project and the City of Oceanside's Mission Basin Groundwater Purification Facility Well Expansion and Brine Minimization Project.
California's clean energy economy a 'model for the nation'
He also said California has proven that a clean energy economy works to enhance environmental sustainability and jobs.
"We're leading the way in California, and at the end of the day, we've developed a clean energy economy," Levin said. "The state is a model for the country in how to protect the environment and grow the economy."
https://www.waternewsnetwork.com/wp-content/uploads/2019/11/Rep-Mike-Levin-and-WA-Board-Chair-Jim-Madaffer-WA-Photo-EKJ.png
450
849
Ed Joyce
https://www.waternewsnetwork.com/wp-content/uploads/2018/02/water-news-network.png
Ed Joyce
2019-11-06 17:18:55
2019-11-07 17:44:41
Rep. Levin Touts Bipartisan Efforts to Fund Water Supply Reliability