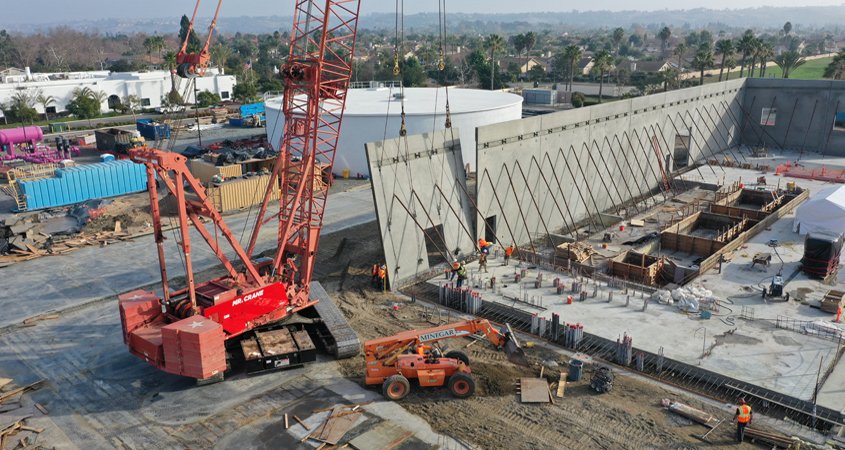 Pure Water Oceanside construction remains on schedule for completion in 2022, with several significant milestones recently completed. The Oceanside project will purify recycled water to create a new, local source of high-quality drinking water that is safe, drought-proof and environmentally sound.
"Construction has impacted many residents and businesses," said Cari Dale, City of Oceanside water utilities director. "Please know the City of Oceanside appreciates your patience. We thank people for understanding the need for this project and bearing with us during these months of construction impacts. This work is temporary, but the benefits will last for generations."
Pure Water Oceanside Project foundation walls in place
The foundational work on the facility located in the San Luis Rey Water Reclamation Facility is complete. Pipelines, electrical conduits, equipment pads/pedestals, and wet wells have been constructed. Prefabricated walls have been installed. Installing the roof and additional wall stabilizing are next on the schedule.
The water purification equipment including pumps, membrane filters, and reverse osmosis canisters are currently being manufactured. Delivery is anticipated between this summer and fall.
Coco Farms Drive and Fireside Park construction update
The two injection wells on Coco Palms Drive are complete. Sound walls will be removed. Construction on two planned monitoring wells is anticipated to begin within the next two months. Sound walls will be installed prior to extended hours construction into evenings and weekends to reduce the impact on the community.
Coco Palms Drive will continue to be closed for the next few months while pipeline construction is underway.
Work on the south side of Coco Palms Drive near the El Camino Real intersection begins this month. Parking in the area will be closed during this work period with "no parking" signs posted.
Monitoring well work in Fireside Park will take place primarily during the daytime, with possible evening and weekend work for critical activities. Sound walls will be installed to reduce noise. Drilling and development is estimated to take six weeks.
El Camino Real recycled water expansion pipeline work coming soon
Pipeline installation work will begin soon to install recycled water pipelines under El Camino Real. Traffic delays are expected and alternative routes are suggested.
Cones will be set up in work zones to redirect traffic from closed lanes and flagger workers will help drivers safely navigate intersections. Regular working hours will be Monday through Friday, 7 a.m. to 5 p.m. with occasional work on Saturdays.
Work at the Mission Avenue and El Camino Real intersection will be at night to reduce commuter traffic impacts. Work hours will be from 8 p.m. to 4 a.m.
Oceanside Project benefits both residents and environment
Approximately 90% of Oceanside's drinking water is imported. Pure Water Oceanside will create three to five million gallons of drinking water each day, enough water to provide 32% of the City of Oceanside's water supply.
The water purification process uses reverse osmosis and advanced oxidation to create safe drinking water. The technology removes pharmaceuticals, chemicals, hormones, microplastics, and personal care products.
The project protects sensitive ecosystems by reducing the amount of water siphoned by imported water sources. It decreases the amount of recycled water discharged into the ocean, and uses half the energy needed to transport imported water, reducing greenhouse gas emissions.
Residents are kept up to date on construction impacts to streets and other infrastructure through several outreach efforts including an interactive construction map, detailed online schedule, regular newsletters, and virtual open house presentations live on the City of Oceanside's YouTube channel, offering residents the opportunity to ask questions.
https://www.waternewsnetwork.com/wp-content/uploads/2021/02/Pure-Water-Oceanside-SLR-Tilt-Wall-22-845X450.jpg
450
845
Gayle Falkenthal
https://www.waternewsnetwork.com/wp-content/uploads/2018/02/water-news-network.png
Gayle Falkenthal
2021-02-10 06:21:31
2021-02-10 06:48:03
Pure Water Oceanside Project Reaches Milestones