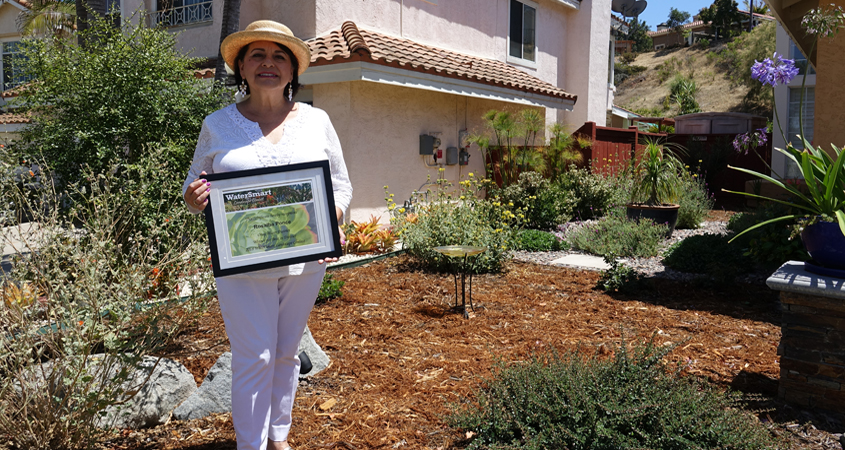 As part of the countywide WaterSmart Landscape Contest, the Otay Water District has selected water conservation class graduate and rebate recipient Rosalba Ponce of Chula Vista as the 2018 winner of its "Best in District" award.
Each year, participating water agencies in San Diego County honor residential customers who showcase the best water-efficient features in their yards. This year's contest committee from Otay determined that Ponce's landscape best achieved overall attractiveness, a well thought-out design, efficient irrigation methods, and appropriate plant selection and maintenance.
Water-efficient Mediterranean floral garden replaces thirsty front lawn
Prior to converting her yard, Ponce participated in two of the San Diego County Water Authority and its member agencies' water conservation programs — the WaterSmart Landscape Makeover Program series and the Sustainable Landscapes Program. In 2016, she attended the Water Authority's free landscape makeover classes, and as a result hired a professional landscaper to help her replace her thirsty front lawn with a Mediterranean floral garden that was both welcoming and water-efficient.
"Upon retiring, I thought the four-class course would be perfect for me," said Ponce. "At first, it was very difficult for me because I had never really stepped out into the garden in my whole life. I didn't know what a valve or filters were. I didn't know anything about what kind of soil I had. This course gave me the tools to learn about turf removal and opened my eyes to the joy of remodeling my yard."
With water savings in mind, she also installed a drip irrigation system, two rain barrels, and a detention area to collect rainwater.
 Regional incentives help offset landscaping costs
Ponce also submitted her application for the Sustainable Landscapes Program, and in less than nine months, she had completed the full transformation of her front and back yards, receiving an incentive of $1.75 per square foot for replacing approximately 1,200 square feet of turf with sustainable landscaping. (Editor's Note: As of July 2018, sustainable landscaping incentives in San Diego County are available through the Landscape Transformation Program at www.socalwatersmart.com.)
Her residential landscape now serves as a living example of what conservation education can help create. Ponce's efforts could have potentially led to a decrease in her overall water use by an average of up to 38 percent.
"Ms. Ponce's landscape transformation demonstrates the importance of outdoor water-use efficiency as a means of helping to meet the future water needs of our service area and our region as a whole," said Mitch Thompson, Otay Water District Board member and Water Conservation Garden Joint Powers Authority committee member. "Water-saving approaches to landscaping create healthy, natural yards that offer both economic and environmental benefits."
At its July 11, 2018 meeting, the Otay Water District's Board of Directors honored Ponce for exemplifying water-use efficiency in her garden. She was awarded a certificate of recognition, a gift certificate to a local nursery, and other promotional items. She is also being recognized in the district's newsletter and other outreach materials.
"When I entered the contest, it was another way for me to share my story with other people and motivate them to do something that's going to be good for our world," said Ponce.
For more information about the landscape contest, go to www.landscapecontest.com.
https://www.waternewsnetwork.com/wp-content/uploads/2018/07/Otay-Winner-2018-Winner-Ponce845X450.jpg
450
845
Gayle Falkenthal
https://www.waternewsnetwork.com/wp-content/uploads/2018/02/water-news-network.png
Gayle Falkenthal
2018-07-20 09:29:42
2018-08-06 12:11:16
Otay Water District Announces 2018 WaterSmart Landscape Contest Winner