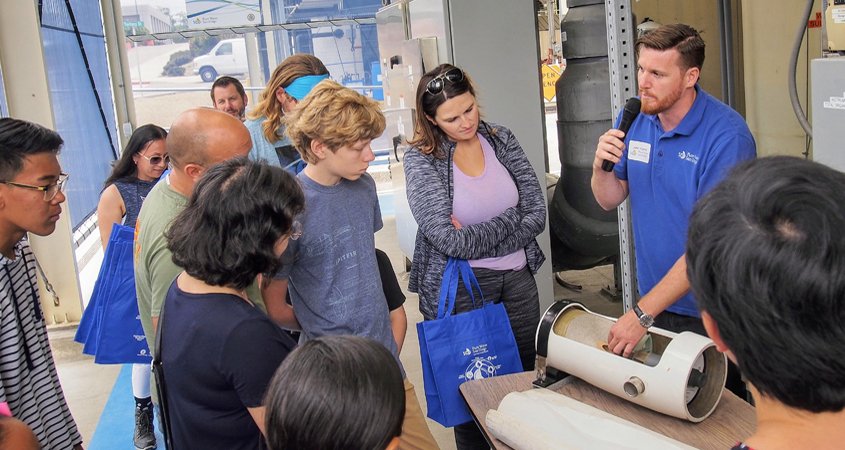 John Carroll, the City of San Diego's Pure Water Treatment Plant superintendent, received the 2021 Robert O. Vernon Membrane Plant Operator of the Year Award from the American Membrane Technology Association and the American Water Works Association.
This award recognizes outstanding contributions to water supply improvement by an individual working at a membrane filtration, desalination, and/or water reuse facility. Carroll was selected in recognition of his service and dedication to membrane operations and for his leadership within the industry.
"My selection would not have been possible without the support of many dedicated and talented individuals, the fellow coworkers, consultants, and volunteers to whom I owe all my success," said Carroll.
Carroll plays key role in Pure Water Demonstration Facility
Carroll worked as the senior wastewater operations supervisor of the North City Water Reclamation Plant, where he oversaw the operation of the City of San Diego's Pure Water Demonstration Facility.
"When Pure Water came along, we needed staff to step up," said Tom Rosales, Assistant Director for the San Diego Public Utilities Department. "John established protocols and procedures. He participated in training incoming staff. He led public tours. I can't overstate his involvement from day one."
From student to teacher
"Since I had no operational experience with Advanced Water Treatment technologies prior to my role at the City's Pure Water Demonstration Facility, my approach was that of a student, with the caveat of knowing I would need to become a teacher out of necessity to build our internal knowledge," said Carroll.
In July, Carroll was promoted to be the first superintendent of the North City Pure Water Facility, currently under construction. It is the latest step in a career that started with a part-time job in the City's Lakes Division. He studied water and wastewater treatment at Palomar College and completed the Water Authority's Regional Water/Wastewater Internship Program in 2009, launching his career with the City of San Diego in plant operations.
"The encouraging and supportive public servants I've met throughout my career continue to add to my sense of community here," said Carroll. "Ultimately, I like to think I am following in my mother's footsteps who worked at the City's Otay Water Treatment Plant."
National award recognizes Pure Water San Diego
Each year, AMTA confers multiple awards to recognize exceptional individuals and organizations like John Carroll and Pure Water San Diego for their efforts in advancing the understanding and application of membrane technology to create cost-effective and reliable water treatment solutions.
"This is a national award," noted Rosales. "John's peers and others agree that he's deserving of this award. You want someone like John to be on your team to stand it up and lead it."
"Membrane technology continues to make considerable advances in creating safe, affordable and reliable water treatment solutions because of industry innovators and a dedicated network of forward-thinking membrane professionals," said Jill Miller, AMTA President.
The award is named after the late Dr. Vernon, a professional geologist who contributed to water resources management at various levels of state and federal government in Florida and who was a former president of the American Water Works Association.
This year's winners were announced at the 2021 Membrane Technology Conference hosted in West Palm Beach, Florida in July.
(Editor's note: The City of San Diego is one of the San Diego County Water Authority's 24 member agencies that deliver water across the metropolitan San Diego region.)
https://www.waternewsnetwork.com/wp-content/uploads/2021/08/John-Carroll-Pure-Water-SD01.jpg
450
845
Gayle Falkenthal
https://www.waternewsnetwork.com/wp-content/uploads/2018/02/water-news-network.png
Gayle Falkenthal
2021-08-26 15:02:49
2021-08-26 15:02:49
National Awards for Pure Water San Diego's John Carroll