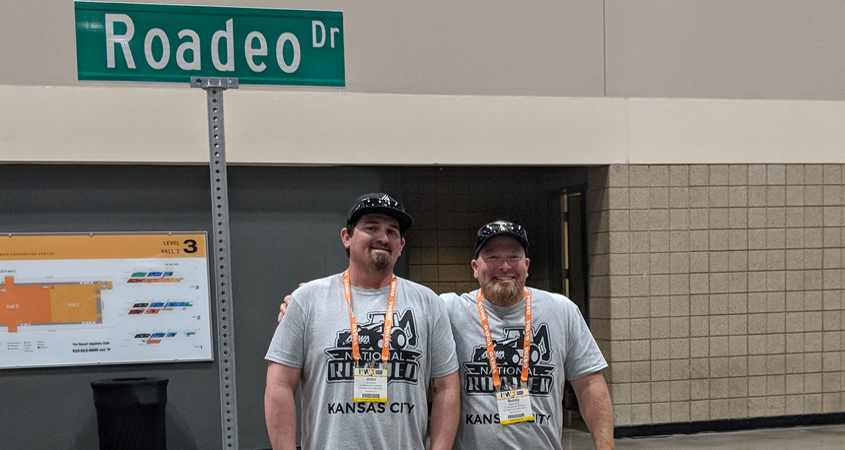 Two maintenance pros representing San Diego brought home awards from the 2018 American Public Works Association's National Roadeo Skills Competition in Kansas City, Missouri , in late August.
The San Diego County Water Authority's Bobby Bond Jr. placed second in the backhoe/mini-excavator event, while John Brown, also of the Water Authority, placed third in the skid steer competition. They are the only winners from west of the Rockies, and the only two winners from a single agency nationwide.
A record number of 86 participants competed in three categories of competition: the backhoe/mini-excavator, skid steer, and mechanics. Each competition fielded 50 to 55 participants. Organizers ran through the rules and provided an orientation to the three categories of competition, as well as a tour of each course. Finally, all of the competitors drew numbers to determine their starting order.
Competition tests skills used to maintain vital infrastructure
Bond competed in the skid steer category early, which served as a warm-up for the backhoe and the mini-excavator tests. Despite incurring a 25-second penalty for dropping a section of PVC pipe, Bond's time through the course was 3 minutes, 3.2 seconds with minimal faults, earning him the second place finish.
It was Bond's second year in the event, and his previous experience paid off. "This year, it was really competitive," said Bond. "The course was really tight. They did a really good job making it fair for everyone. It was fun."
John Brown placed third despite an unusual hiccup. While he was competing, his mini-excavator ran out of fuel on the second obstacle. He was allowed to restart on a replacement machine, earning Bond's admiration for remaining cool under pressure. Brown's final time was 1 minutes, 55.8 seconds, with no penalties assigned.
Both the national and regional competitions mimic skills that Bonds, Brown and thousands of other employees use each day on the job while maintaining water and wastewater systems, streets, and other vital infrastructure.
Jim Fisher, Director of Operations and Maintenance for the Water Authority, is proud of the results, but not surprised. "Bond and Brown are part of a team whose skills we count on every day to maintain our region's water system. They exceed our expectations and both earned this well deserved recognition for their accomplishments."
Bond says he intends to return for local and national competitions in coming years – and he aims to compete for the Water Authority when the National Roadeo Skills Competition returns to San Diego in 2022.
See the complete list of winners here.
https://www.waternewsnetwork.com/wp-content/uploads/2018/09/Backhoe-2018-National-Sign-845X450.jpg
450
845
Gayle Falkenthal
https://www.waternewsnetwork.com/wp-content/uploads/2018/02/water-news-network.png
Gayle Falkenthal
2018-09-11 12:05:49
2018-09-19 20:14:57
Maintenance Men Bring Home the Hardware from National Contest