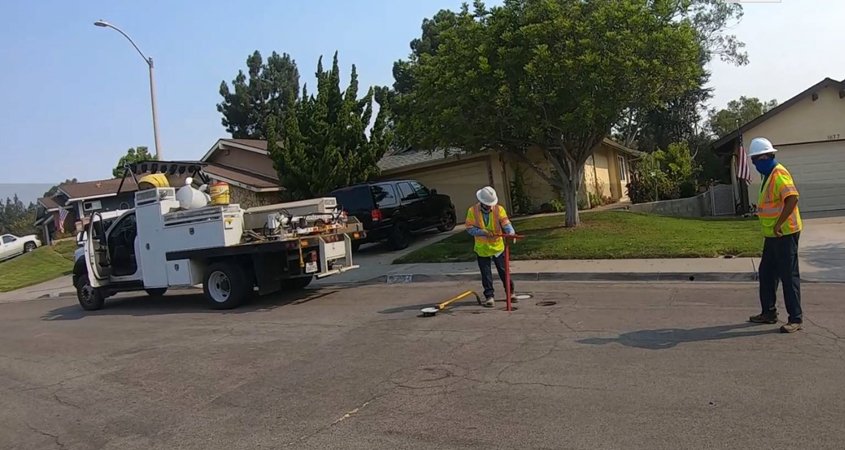 Just as owners perform routine maintenance to keep their cars running smoothly, water systems need regular maintenance to provide reliable service. The Vallecitos Water District's Valve Maintenance Program ensures these vital components in its water distribution remain in good working condition throughout the District. Valves left without proper maintenance for long periods can become a serious problem, especially in an emergency water shutdown.
VWD's Construction Department manages the program. Two-person teams use maps to familiarize themselves with the location of the 4,959 valves in the system, not including fire hydrants and fire services. Critical valves serve hospitals and businesses. Between 300 and 500 valves are serviced monthly, following American Water Works Association standards.
Small but vital parts monitored
Construction worker Justin Shutt explains valves are isolation and shutoff point for water mains along streets.
"If we have a main break, where a main ruptures, we need to be able to isolate those certain sections without taking too many people out of water" by shutting the valves, said Shutt.
Valve Maintenance Technician John Truppa runs the valve maintenance program. He trains crew members how to use the valve exerciser machine, read maps properly, and respond to customer calls. Customer service is a priority. When a customer reports a water line leak in their home, the valve maintenance crew helps by shutting off the water at the meter.
The Vallecitos Water District's geographic information system provides a written record of valve location, condition, maintenance, and inspection records for each valve serviced. Reliable recordkeeping is vital to ensure all valves receive regular maintenance and are replaced before coming to the end of their service life to reduce the percentage of failures and inoperable valves. The District monitors valve life span to replace them prior to failure. Areas prone to water main breaks and valves on mains serving large groups of customers get added attention.
Taking turns
Valve maintenance involves performing a prescribed number of turns to "exercise" or test the valve. Turns are calculated in part by the size of the main. Larger transmission water mains require more valve turns, both up and down. Turning speed is also important. If valves are closed too quickly, it creates "water hammer," or sudden pressure forcing water down the line, potentially triggering water main breaks. You may have heard a water hammer in your house when you shut off a household valve suddenly.
Ounce of prevention
Regular valve maintenance prevents unanticipated shutdowns of water service to Vallecitos customers.
"We want to take as few people out of water at a time as we possibly can," said Shutt. "We keep up on the upgrades and make sure the valves are working the way they're supposed to."
The proactive approach by the Vallecitos Water District ensures the reliable delivery of quality water to its customers while ensuring all systems are working properly.
https://www.waternewsnetwork.com/wp-content/uploads/2021/02/VWD-Valve-Turning-1-845X450.jpg
450
845
Gayle Falkenthal
https://www.waternewsnetwork.com/wp-content/uploads/2018/02/water-news-network.png
Gayle Falkenthal
2021-02-03 08:13:18
2021-02-03 08:20:41
Vallecitos Water District Valve Maintenance Program Ensures Reliable Service