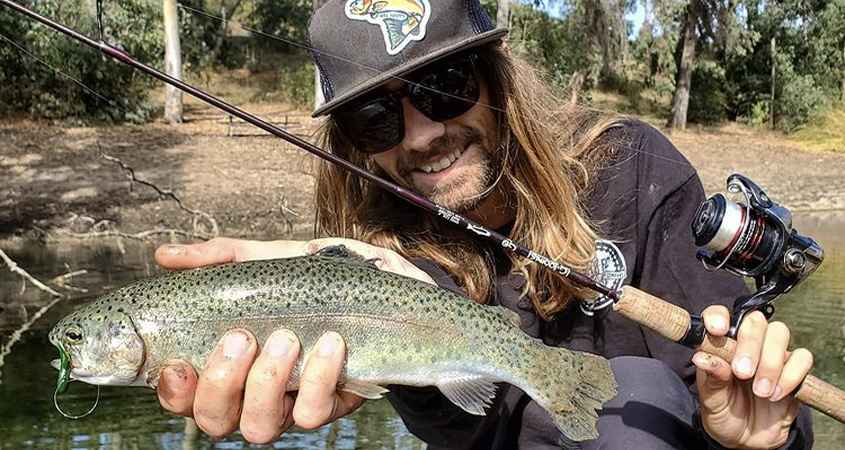 Lake Jennings, the Helix Water District reservoir in Lakeside, is one of San Diego County's hot spots for trout fishing. It ranks second in the county according to the recreational fishing website SDFish.com. The 2020 fall trout fishing season got underway on November 20, with enthusiastic anglers enjoying safe outdoor recreation with pandemic precautions in place.
"It's one of those family activities people can do right now," said Kira Haley, Helix Water District recreation manager. "Kids need to get outside and spend time in the fresh air. It was a big weekend; it was really fun."
Through the opening weekend, Lake Jennings issued 931 permits, including 161 for children, an increase of 10% over 2019.
Haley said due to safety measures, the lake staff worked hard to keep lines to a minimum.
"We are only allowing one family into the bait and tackle shop at a time," said Haley. "One of the first things we did was get a portable register. It allows us to go up and down the line of people selling permits to those who don't need to come into the store itself."
Trout arrived last week from Thatcher, Idaho. The 2,500 pounds of fish travel 913 miles in an oxygenated truck to stock the lake.
"The lake is so clear you can see the fish," she said. "A lot of our fishermen are sight fishing. They can follow a school around the lake and cast before they get there. It becomes more of an exercise activity too."
Fishing and social distancing go together
Fishing is a natural social distancing activity.
"We have five miles of shoreline there's plenty of space to spread out," said Haley. "When you're working with hooks and big fishing poles, you want to stay away from other people."
Haley praised visitors for their compliance with all safety precautions, which have been in place since July.
"People are being respectful," she said. "They're wearing their masks, which makes us so happy. This is allowing us to stay in business and stay in compliance."
She said all boats, lifejackets and seat cushions are disinfected after every use. Haley said only EPA approved disinfectants are used around the lake.
The lake's 97 campground spaces are currently booked three weeks in advance for weekend dates.
The lake remains open for activities, including nature walks and birding from 6 a.m. to 3 p.m. Friday through Sunday. Night fishing ended November 20 due to California's 10 p.m. curfew order.  Haley said night fishing might return on a limited basis until 9 p.m. on future weekends. Check the lake's website for the latest information.
Lake Jennings is more than just a great fishing spot. The lake is also where the Helix Water District stores imported water from the Colorado River and Northern California and local water from Lake Cuyamaca and El Capitan Reservoir to provide safe, reliable water to East County residents.
https://www.waternewsnetwork.com/wp-content/uploads/2020/11/Lake-Jennings-Trout_1596-845X450.jpg
450
845
Gayle Falkenthal
https://www.waternewsnetwork.com/wp-content/uploads/2018/02/water-news-network.png
Gayle Falkenthal
2020-11-24 16:59:57
2021-08-08 15:02:15
Lake Jennings Trout Season Opening A Success