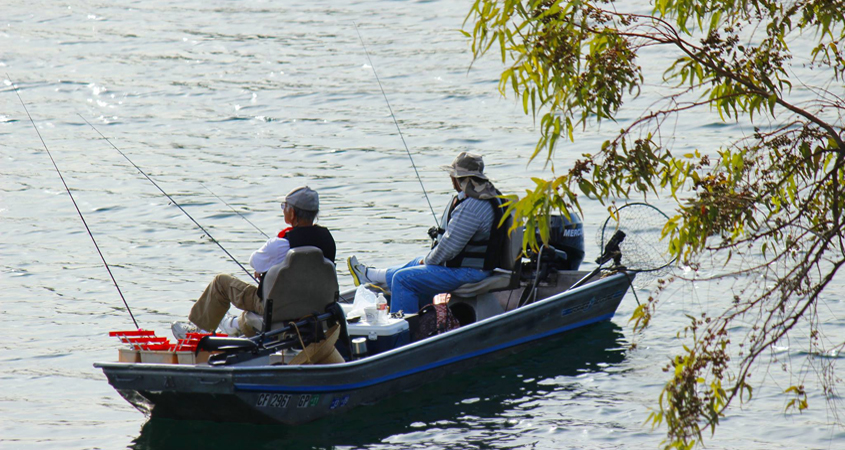 San Diego County's freshwater fishing in area reservoirs and lakes managed by the region's water agencies attracts expert anglers and beginners alike.
Of San Diego County's 24 reservoirs and lakes, 18 allow fishing. Bryan Norris, Reservoirs and Recreation Program Manager for the City of San Diego, oversees eight locations offering recreational opportunities, including fishing.
"We are the largest provider of recreation for the domestic water supply in California," said Norris. "No other program provides recreation at eight different reservoirs. The City of San Diego is considered a pioneer in these offerings. It's really something that gets overlooked."
Bass and bluegill are biting at San Diego reservoirs
What people often call lakes in the City of San Diego are actually water supply storage reservoirs and part of the City's municipal water supply system operated by the City's Public Utilities Department. The nine reservoirs are Barrett, El Capitan, Hodges, Lower Otay, Miramar, Murray, San Vicente, Sutherland, and Upper Otay. Lake Hodges, Sutherland, and Barrett Lake close during winter months; the remaining five are open year-round.
Lake Murray in La Mesa and Miramar Lake in Scripps Ranch are stocked regularly with trout by the California Department of Fish and Wildlife. The remaining fish species are self-sustaining, such as bass, catfish, bluegill, and crappie.
"We're so well known for our bass fisheries at the city lakes," said Norris. "We have multiple tournaments at our reservoirs, it's our top fishery. They are serious, it's like any organized sport."
Trout most popular at Lake Jennings
Lake Jennings in Lakeside, operated by the Helix Water District, opened its popular trout season November 15. It stocks 20,000 pounds of trout annually on a biweekly schedule between November and April, and 10,000 pounds of catfish in the summer months. It recently received 2,500 pounds of rainbow trout stock from Wright's Rainbows in Thatcher, Idaho.
Helix Recreation Manager Kira Haley said she works closely with the California Department of Fish and Wildlife to determine the correct timing for stocking the lake for eager fishing enthusiasts.
"If you don't stock it, they won't come," said Haley. "We base the timing on water temperature for the trout, between November and April, when it's low enough for trout to survive. When it's not low enough, we stock catfish."
In addition, large-mouth bass, red-ear sunfish, and bluegill, as well as channel and blue catfish live in Lake Jennings. Sign up for the Lake Jennings Fish Report online to see what fish are biting.
Haley says she enjoys her new role as a fisheries manager.
"I wouldn't have called myself a fisherman before I got here," said Haley. "I know more about fish than I ever thought I would know.
"It's a very active community. They care so much about the lake and the health of the fish and the fisheries. It's a great group of people to work with. Most fishermen are good stewards of the land itself. They see a piece of trash, they pick it up."
Santee Lakes a popular family fishing stop
Santee Lakes, operated by the Padre Dam Municipal Water District, also stocks 12,500 pounds of trout and 24,000 pounds of catfish annually in the fall months for its anglers.
San Diego County's year-round lakes also offer hiking, walking, biking, and picnicking.
Three of San Diego's reservoirs (Lake Hodges, San Vicente, and El Capitan) allow windsurfing, water skiing, and the use of personal watercraft. Stand up paddle boarding was added this year at Lake Hodges. Barrett Lake and Lake Sutherland offer bird hunting.
Norris hopes more people will visit and enjoy an escape from everyday urban life.
"There are so many reservoirs around the county that provide recreational opportunities; it's unfortunate. Everyone thinks of beaches when they think of San Diego," said Norris.
Easier access to recreation information on new website
As part of an ongoing effort on making it easier for the public to access recreation information, the City of San Diego reservoir lakes website has been revised and enhanced.
The website features fishing, hunting, and recreation information, an interactive map, and a photo gallery. New graphics help anglers determine the types of fish available at the City's reservoirs. Expanded details provide users with access to the fish catch report and details about boating and permits as well as employment and volunteer opportunities.
https://www.waternewsnetwork.com/wp-content/uploads/2019/11/lake-jennings-fishing-boat-845X450.jpg
450
845
Gayle Falkenthal
https://www.waternewsnetwork.com/wp-content/uploads/2018/02/water-news-network.png
Gayle Falkenthal
2019-11-18 17:20:21
2019-11-19 13:26:54
Freshwater Fishing Flourishes at San Diego Region's Reservoirs and Lakes