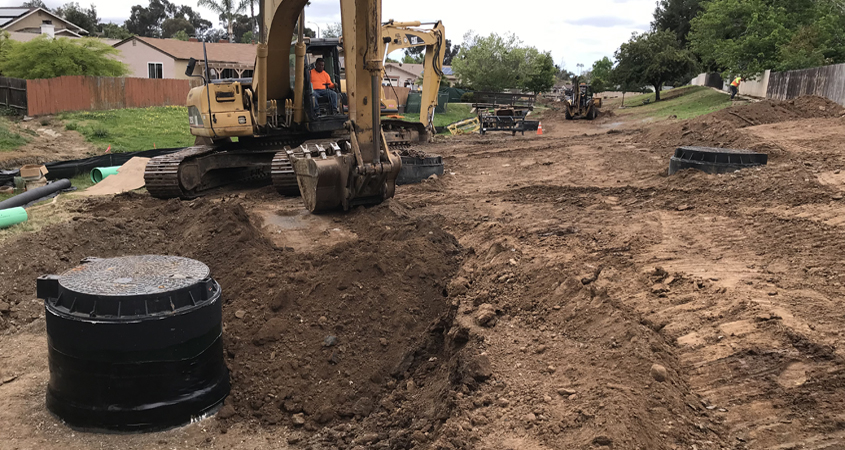 In its efforts to maintain its critical infrastructure, the Vallecitos Water District undertook a challenging update to a wastewater system pipeline constrained by its precarious location.
The existing eight-inch gravity sewer pipeline conveys wastewater from the intersection of Rock Springs Road and Bennett Avenue west through a greenbelt area to an existing 12-inch pipeline in Rock Springs Road at Lancer Park Avenue. To expand capacity for current and future growth, it was replaced with a new 15-inch PVC pipe west of Matthew Lane and a 12-inch PVC pipe north and east of Matthew Lane.
See video following the progress of this vital infrastructure project
Complications due to environmental and neighborhood protection
The District always prefers to perform work in a street or public right-of-way. Neither were possible for this project due to its greenbelt and park location within feet of residential homes.
"We took every environmental precaution prior to construction," said Lito Santos, Vallecitos Water District Project Engineer. "We performed a nesting survey, a raptor survey, and we also worked to tunnel under the bridge," within the Environmental Protection Agency's "Clear Water Rule."
San Marcos Woods Homeowners Association board member Ross Fisher acted as a liaison between homeowners and the HOA with the District. Fisher expressed concern about access to the work area by the District's large combination truck. The original proposal to create a concrete strip to drive over wasn't feasible.
Working together with Vallecitos Water District engineers, the group chose an alternative material called "grass-crete." Grass-crete is a green porous paving solution that comes in easy-to-install rolls. It's flexible, lightweight, durable and provides design versatility to the project. Due to its incredible strength, the grass-crete and existing lawns can handle the weight of a large service vehicle driving on it without significant damage.
Proximity to additional threats
Vallecitos Water District engineers also worked with San Diego Gas & Electric to perform its work with enough safety clearance from a 16-inch transmission main artery gas line pressurized at 800 pounds per square inch. The District secured permission to dig within two to three feet from the line instead of the standard five feet.
The work area is also prone to flooding after large rain events, raising the water levels in the nearby creek high enough to infiltrate and inflow into the manholes. The District moved the manholes clear of the creek embankment, and lifted the manholes two feet above ground and clear of the flood plain to prevent runoff intrusion. Manholes were waterproofed, coated, and sealed as an additional precaution and to extend their longevity.
Homeowners praise Vallecitos cooperation with community
"Overall Vallecitos left the greenbelt area as good or better when they started," said Fisher of the HOA. "On a scale of one to ten, I have to give them a 9.5 or a ten. Working with the inspectors and Lito Santos the engineer, everything we asked for was done in a timely manner."
"The project was a huge success," said Santos. "Working with the Vallecitos Engineering Team, the Inspection Team and Mr. Fischer, it was not just a Vallecitos highlight but a career highlight."
https://www.waternewsnetwork.com/wp-content/uploads/2020/07/VWD-Manhole-Backhoe-845X450.jpg
450
845
Gayle Falkenthal
https://www.waternewsnetwork.com/wp-content/uploads/2018/02/water-news-network.png
Gayle Falkenthal
2020-07-07 17:10:41
2020-07-07 17:44:18
Community Outreach Makes Challenging Infrastructure Update a 'Walk in the Park'