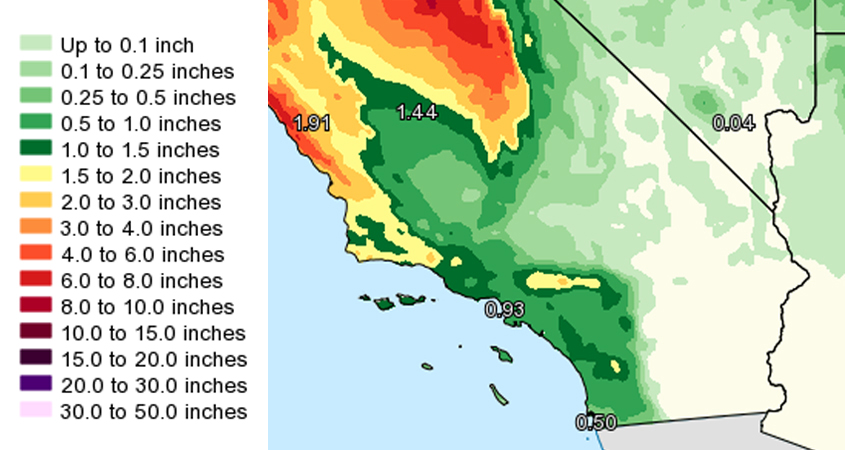 Atmospheric river events in late January and in February have significantly increased snowpack in the Sierra Nevada and the Rocky Mountains, key sources of water supply for the state and San Diego County.
"We're thrilled by the amount of precipitation – rain and snow – in San Diego County, the Sierra and the Rockies," said Dana Friehauf, a resource manager with the San Diego County Water Authority.
The statewide Sierra Nevada snowpack was 151 percent of normal at 104 reporting stations for February 27, according to the California Department of Water Resources. The Rockies have received significant snowfall, which will feed the Colorado River, a source of water supply for the Water Authority. The amount of precipitation in most of the Rocky Mountain region, has ranged from 100 to 150 percent for Water Year 2019 through February 25, according to data from the Natural Resources Conservation Service. The percentage is based on the median between 1981 and 2010.
Record rainfall recorded in San Diego
Locally, a bountiful February has helped make Water Year 2019 one of the wettest on record at Lindbergh Field. Preliminary data from the National Weather Service indicates 10.62 inches of precipitation at the San Diego International Airport, with 3.42 inches coming so far in February 2019.
The Weather Service report issued Feb. 24 also shows that last year at this time, just 1.91 inches of precipitation had been recorded at the airport (for Water Year 2018).
In fact, Water Year 2018 (October 1 – September 30) was the second-driest on record since 1850 at Lindbergh Field, with just 3.3 inches of rain, or 32 percent of the long-term average.
Friehauf reminds San Diegans that even in years such as this, when rainfall is plentiful, that water-use efficiency remains a way of life. For instance, each rainstorm is an opportunity to turn off irrigation systems for days or even weeks at a time. She also suggests residents use rain barrels to collect or "harvest" water that can be used later, when the weather is drier.
Capturing the water from gutters and downspouts also reduces the amount of water flowing into storm drains. Homeowners can get rebates on residential rain barrels. Find details on rain barrel rebates here.
https://www.waternewsnetwork.com/wp-content/uploads/2019/02/Atmospheric-River-March-Rainfall.jpg
450
845
Gayle Falkenthal
https://www.waternewsnetwork.com/wp-content/uploads/2018/02/water-news-network.png
Gayle Falkenthal
2019-02-27 09:44:18
2019-03-25 15:21:16
Atmospheric Rivers Benefit State, Regional Water Supply