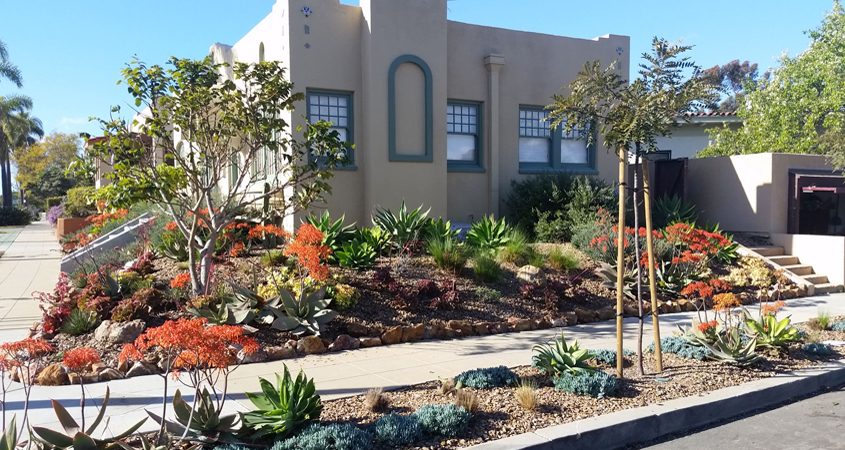 Using water efficiently is a way of life and an important responsibility in San Diego County's beautiful Mediterranean climate. WaterSmart landscaping rethinks the way limited water resources can be used by making smart choices to reduce outdoor water use. But saving water is just one benefit of low-water-use landscaping.
WaterSmart landscapes are attractive and in balance with the regional environment and climate. They incorporate elements of sustainable landscaping such as healthy, living soils, climate-appropriate plants, and high-efficiency irrigation. They generate many environmental and community benefits.
Beautify Your Property: A well-designed WaterSmart landscape enhances the appearance and value of your property.
Protect Natural Resources and the Environment: WaterSmart landscapes generate many environmental and community benefits including lowering water use, reducing green waste, and preventing stormwater runoff and pollution.
Reduce Costs: WaterSmart landscaping uses less water than traditional landscaping, which can save you money on your water bill.
Reduce Maintenance: Well-designed irrigation systems and plants appropriate to San Diego County's climate often require less-frequent care and maintenance.
Learn more about the reasons WaterSmart landscaping is vital in San Diego County.
Adding outdoor living space adds value
Consider the value of having a garden to live in as well as look at by creating outdoor rooms for your favorite activities. Adding outdoor living space makes even the smallest home feel open.
The front yard is making a comeback across the country in developments focused on sustainable living. Most San Diego County homes have a garage out front, but we can redesign our front yards to be the new American front porch, where we connect with neighbors and create the kind of street we always wanted to live on.
Restoring regional authenticity is a significant design trend. Authentic also means sustainable. Plants native to Mediterranean climate zones thrive and preserve biodiversity while reducing costly and time-consuming maintenance.
The WaterSmart Landscape Makeover Program is an award-winning educational program developed in 2012 by the San Diego County Water Authority, its member agencies, and local community college experts. The program's step-by-step process empowers homeowners with the skills and knowledge necessary to convert a turf area into a WaterSmart landscape.
Gardening is an activity, like painting, cooking or golf, where you never stop learning. Take a trial-and-error approach and learn what works for you.
_____________________________________________________________________

(Editor's Note: The San Diego County Water Authority and its 24 member agencies offer programs, resources, and incentives to improve water-use efficiency for residential, commercial, and agricultural users. WaterSmart Living is a way of life in the region. Stay WaterSmart San Diego! For more water-use efficiency resources, go to WaterSmart.SD.org.)
https://www.waternewsnetwork.com/wp-content/uploads/2022/04/Valeeva-Front-Landscaping-After-845X450-Wk1.jpg
450
845
Gayle Falkenthal
https://www.waternewsnetwork.com/wp-content/uploads/2018/02/water-news-network.png
Gayle Falkenthal
2022-05-09 06:00:57
2022-05-09 07:18:11
A Step-by-Step Process to a WaterSmart Landscape