As the San Diego County Water Authority celebrates its 75th anniversary this month, Board Chair Jim Madaffer offered a fresh vision of the region's water future and outlined new efforts to ensure water supply reliability for generations to come at the National Albondigas Political Society of San Diego meeting in Chula Vista.
Madaffer pointed to the 2003 Quantification Settlement Agreement with the Imperial Irrigation District as an example of the creative thinking and political leadership needed to secure reliable water supplies not only for San Diego County, but across the southwestern U.S by working cooperatively.
"We were able to work out a deal with the Imperial Irrigation District for 200,000 acre-feet of water," said Madaffer, noting that IID has priority rights to Colorado River water supplies. "How smart to have this insurance policy for the region."
Madaffer said one of the key efforts ahead is securing storage rights for the San Diego region's water at Lake Mead, a strategy that could offer benefits to the San Diego region and more broadly across the Southwest by minimizing the chances that Lake Mead will slip in formal shortage status.
Creative concepts explored to improve water supply reliability
Madaffer also outlined some of the concepts being explored by the Water Authority and its member agencies to improve water supply reliability with more diverse water supply sources, along with engineering and political creative thinking.
Madaffer said the Water Authority's Board of Directors is considering a study about constructing a regional pipeline system to move the San Diego region's independent water supplies from the Imperial Valley directly to San Diego. He said the options offer additional advantages to farmers in Imperial County and the Salton Sea.
"I'm a regionalist," said Madaffer. "I'm interested in what we can do to make sure all of our member agencies are supported, and make sure water delivery works for the entire region."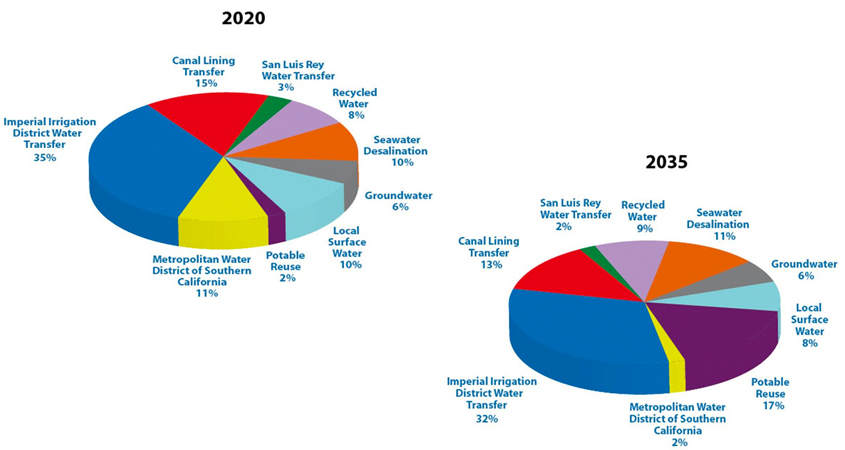 Graphic: Water Authority
San Diego is Brought to You by Water

Displaying a chart showing the change in water supply sourcing from 1990 to today, Madaffer asked, "Do we think we can insulate our region from the ravages of drought, so we aren't depending on pipeline relining and several pipelines delivering imported water?"
He said the region's approach includes a mix of investments, backed by efforts to use water wisely.
"We're using less water today with 900,000 more people than we did back in 1990," said Madaffer, calling it a conservation success story. "All our member agencies, plus each of you in this room, are responsible for helping make it happen."
Madaffer also touted the region's innovation culture.  "From Qualcomm to BIOCOM to all of the technology we produce, we are a hotbed of innovation in the region," he said. "If you remember our drought back in the 1990s, there were states trying to grab our people, saying 'Hey, work in our state instead, because California is out of water.' We've changed that narrative 100 percent … San Diego is Brought to You by Water."
https://www.waternewsnetwork.com/wp-content/uploads/2019/06/Madaffer-Speech4-845X50.jpg
450
845
Gayle Falkenthal
https://www.waternewsnetwork.com/wp-content/uploads/2018/02/water-news-network.png
Gayle Falkenthal
2019-06-20 17:26:14
2019-06-20 17:26:14
Madaffer: Collaboration Propels San Diego Water Supply Reliability