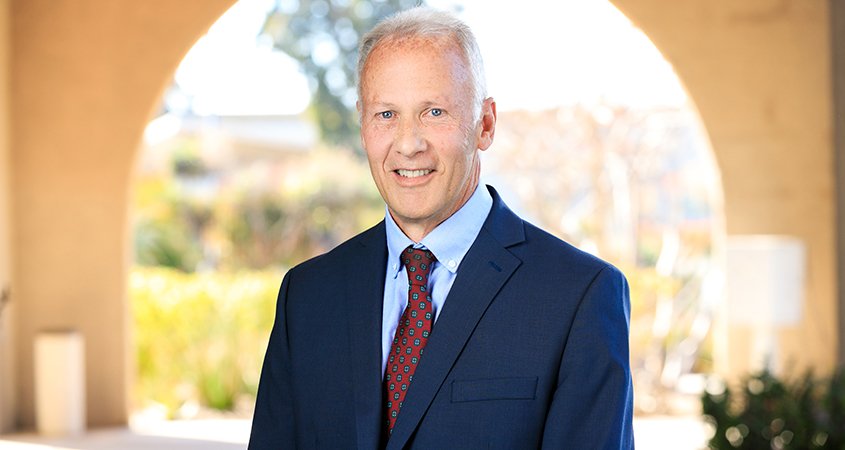 Editor's Note: This feature highlights new members of the San Diego County Water Authority's 36-member Board of Directors. Each of the Water Authority's 24 member agencies appoints at least one representative to the Board, which sets policy for the Water Authority.
Welcome to the Board: Craig Elitharp, Vallecitos Water District
Who: Craig Elitharp was seated on the Board of Directors on December 1, 2020, representing the Vallecitos Water District. Director Elitharp serves on the Legislation and Public Outreach and Water Planning and Environmental committees; the Colorado River Work Group; and is an alternate on the SANDAG Regional Planning Committee for the Water Authority.
Background/Education: Bachelor of Science, Forest Engineering, SUNY College of Environmental Science and Forestry at Syracuse University (1979). Retired in 2014 from the Rancho California Water District in Temecula. Elitharp and his wife Diana have been residents of San Marcos since 1988.
Water Industry Affiliations:
Vallecitos Water District Board Director, Division 3
California Association of Sanitation Agencies (CASA) Board Director
Encina Wastewater Authority Board Director (2015-2018)
US Navy Public Works Center Utilities Department, San Diego (1986-1990), Civil Engineer
Rancho California Water District (1990-2014), Civil Engineer, Operations Manager, and Director of Operations & Maintenance (Retired 2014)
Kennedy/Jenks Consultants (2014-2018), Senior Civil Engineer
Q & A
Q: How did you get interested in water issues?
A: I first became exposed to the world of California water in 1986 when I took a job with the US Navy Public Works Center in San Diego. As a civil engineer there, I managed water and wastewater utilities for six Navy bases in the San Diego area. From there I went to work for the Rancho California Water District in 1990, working first as a civil engineer, then Operations Manager and eventually retiring there in 2014 as the Director of Operations and Maintenance. It's been a fascinating and extremely rewarding career. As an elected official since 2014, I've sought to use my water industry experience for the benefit of the Vallecitos Water District ratepayers and now as a Water Authority board member, for all of the residents of San Diego County as well.
Q: What are your priorities or interests as a Board member?
A: I'm a strong advocate for fiscal sustainability and transparency, ratepayer equity and environmental stewardship. In addition, I believe in hiring and retaining highly qualified staff and empowering and challenging them to reach their full potential.
Q: Besides maintaining safe and reliable water supplies, what do you see as the top three issues facing the San Diego region?
A: I see climate change resiliency, infrastructure investment, and housing and utilities affordability as particularly important issues facing the San Diego region.
Q: What do you like to do when you are not working?
A: I enjoy spending time with my grandsons Nathaniel and Kieran and my granddaughter Kaia. I enjoy running on the trails and in the neighborhoods around Cal State San Marcos as well as running an occasional local half-marathon race. I also enjoy sampling the outstanding craft beers of North County.
The Water Authority's Board of Directors typically meets on the fourth Thursday of each month. The Board invites the public to attend its monthly meetings and to comment on agenda items or other matters before the Board. For meeting times, agendas and documents, go to​ www.sdcwa.org/board-directors.
https://www.waternewsnetwork.com/wp-content/uploads/2021/02/Craig-Elitharp-020321-Primary.jpg
450
845
Ed Joyce
https://www.waternewsnetwork.com/wp-content/uploads/2018/02/water-news-network.png
Ed Joyce
2021-03-10 07:57:48
2021-03-10 07:57:48
Welcome to the Board: Craig Elitharp, Vallecitos Water District