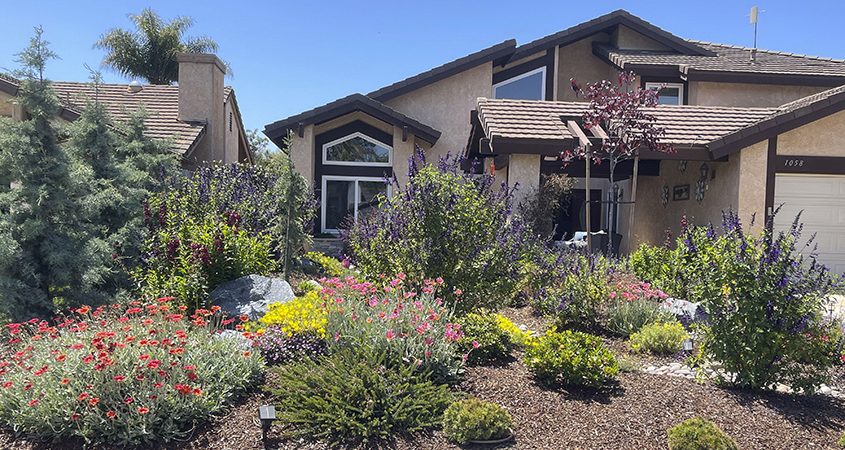 Large trees were the driving force that led Encinitas homeowners to remove grass and create a vibrant, low-water use landscape. The waterwise transformation won the San Dieguito Water District 2023 Landscape Makeover Contest.
Rick and Melanie Cullen had a yard with grass with large shade trees. But the roots of their three large Liquidambar trees were damaging the driveway and the grass, which motivated the couple to remake their landscape.
"San Dieguito Water District is proud to recognize customers like the Cullens, who create beautiful and resilient landscapes while making efficient use of their water," said Isam Hireish, general manager of San Dieguito Water District.
Mountain visits inspire landcape makeover
The Cullens wanted to plant a drought-tolerant, water-wise yard that would be easy to maintain, beautiful, and hold up to their frequent travel schedule.
"My inspiration was to create a water wise, drought-tolerant front yard that also provides us a beautiful yard as if we were in the mountains," said Melanie Cullen. It started with taking existing small landscape rocks and repurposing them into a natural dry streambed feature.
Colorful plant palette pollinators love
Plants were selected that would thrive in the coastal San Diego County environment. The invasive Liquidambar trees were replaced by Blue Ice Cypress, Forest Pansy Red Bud, and dwarf Deodar Cedar trees. Colorful drought-tolerant flowering shrubs and perennials including Coastal Woolybush, salvias, echinaceas, Texas primrose, heronsbill, columbine, Grevillea 'Mt. Tamboritha' and 'Sour Grapes' Penstemon provide habitat for pollinators.
Fragrant ground cover
Grasses including Pennisetum 'Fireworks' and Acorus 'Variegated Sweetflag' add to the plant palette. Creeping Thyme and trailing Rosemary are used as colorful, fragrant ground cover.
A highlight: one dozen Azaleas create a woodland flower look. Cullen says they bloom when other plants aren't flowering.
"One might think they are water hogs, but they get the same water as everything else and bloom quite a bit throughout the year," said Cullen. "It was a matter of choosing the right type of Azalea (Red Bird and Alaska White)."
Drip irrigation system saves water 
The Cullens used a drip irrigation system that encircles each plant individually to direct water to the specific plant. They already had a smart irrigation controller which is still in use. A remote moisture sensor was added allowing the homeowners to monitor the ground moisture at the plants and then adjust watering for the yard.
Three to four inches of bark mulch helps retain irrigation, which has worked "extremely well."
Tapping rain
Melanie Cullen says the irrigation was turned off completely from January through May due to generous rainfall. "Presently, we only need to water once every one to two weeks for 20 minutes," she said.
"I join our Board of Directors in recognizing the leadership of the Cullens and commend them for taking proactive steps to improve our community's resilience to a changing climate," said Isam Hireish, General Manager of San Dieguito Water District. "I encourage all customers to utilize water more efficiently and take advantage of the various water-saving incentives we offer."
In the months since the landscape makeover, the Cullens report all their original goals were met. "We love sitting in our front now and watching the many hummingbirds that also love our yard," said Melanie Cullen.
For rebates, classes, and water-saving tips: sdcwa.org/your-water/conservation/.
(Editor's note: The San Dieguito Water District is one of the San Diego County Water Authority's 24 member agencies that deliver water across the metropolitan San Diego region.)
https://www.waternewsnetwork.com/wp-content/uploads/2023/08/San-Dieguito-2023-May-1-yr-later-39772-845X450.jpg
450
845
Gayle Falkenthal
https://www.waternewsnetwork.com/wp-content/uploads/2018/02/water-news-network.png
Gayle Falkenthal
2023-08-10 14:38:53
2023-08-10 14:46:44
Mountains Inspire Winners of San Dieguito Water District 2023 Landscape Contest