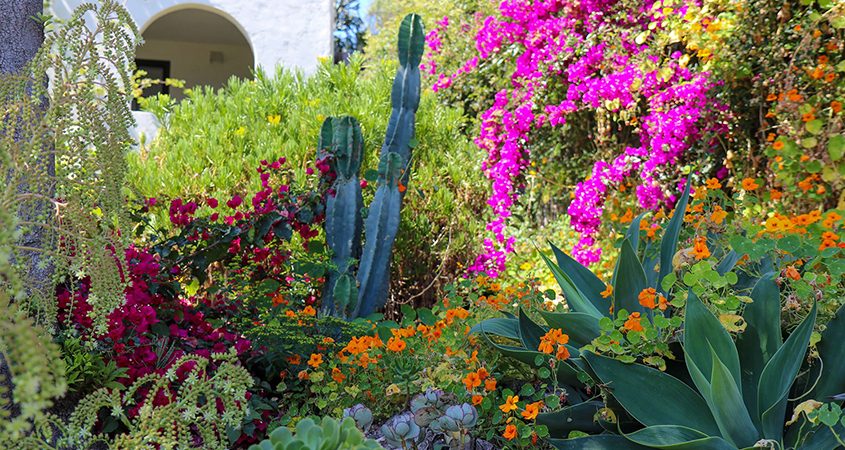 The slope of a 1920s La Mesa home went from a drab lawn to lush floral color with climate-appropriate plants, winning recognition from the Helix Water District as the runner-up in its 2023 WaterSmart Landscape Contest.
The contest promotes beautiful, water-efficient landscapes and rewards people for their inspiring gardens. Joanna and Larry Henning created the country garden with climate-appropriate plants.
The Hennings bought the property in La Mesa's historic downtown area in 2017. Its landscape was covered in weeds and poorly maintained trees. The couple wanted a new landscape that would fill in the expansive slope and be water efficient while staying true to the character of their home.
Before
After
Succulent cuttings
Planting an area this large with new plants can be expensive. But the couple were creative and resourceful, sourcing their plants for the new landscape design. Larry Henning used succulent cuttings from friends and family to plant most of their new landscape.
They supplemented the landscape with carefully chosen specimen plants, including protea, sages, and plumeria. These choices create the landscape's variety of interesting shapes and colors. Five years after starting the project, even the slowest growing plants are fully grown and have transformed the landscape.
Irrigation efficiency
The landscape uses water efficiently to provide enough water for the plants to flourish without waste. Watering schedules are controlled using a smart weather-based irrigation controller. It automatically adjusts for rain and weather changes. Plants receive water from inline drip irrigation with pressure-compensating drip emitters.
Pressure compensation is essential for sloped landscapes because it maintains even watering rates all along the slope and prevents overwatering areas at the bottom of the landscape, where pressure is higher. Mulch covers the drip system, which protects the soil and slows evaporation.
Colorful addition to the La Mesa neighborhood
The landscape delivers ample curb appeal. From the street, trees frame the landscape, filled with shades of green and pops of color. Viewers can also see agave, cacti, and dozens of other succulents. Many display long cones of flowers. From the front patios, the garden provides a tranquil space for the family to enjoy.
District officials selected the landscape for special runner-up recognition due to its impressive transformation and efficient use of color and irrigation.
Helix Water District holds its landscape makeover contest annually. Entries are accepted starting every February through mid-May. For entry information, go to landscapecontest.com.
(Editor's note: The Helix Water District is one of the San Diego County Water Authority's 24 member agencies that deliver water across the San Diego County region.) 
https://www.waternewsnetwork.com/wp-content/uploads/2023/07/Helix-Landscape-2nd-Place-2023-Color-845X450.jpg
450
845
Gayle Falkenthal
https://www.waternewsnetwork.com/wp-content/uploads/2018/02/water-news-network.png
Gayle Falkenthal
2023-08-03 08:28:58
2023-08-03 14:02:36
Lush Landscape Recognized as Runner-Up in Helix Landscape Contest