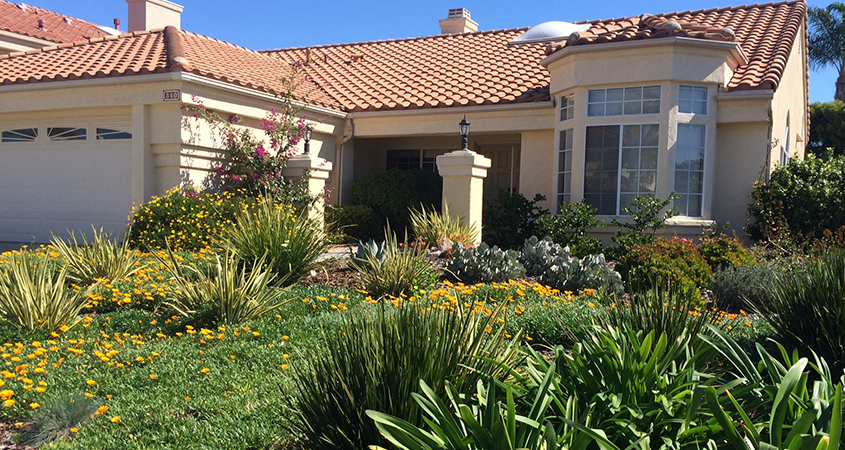 Fall planting season is underway and a great time to take advantage of rebates for replacing your lawn.
"Fall is like a second spring for planting in our region and it's also a great opportunity for residents to take advantage of some outdoor incentives as they replace grass with climate appropriate plants," said Joni German, water resources specialist at the San Diego County Water Authority.
Lawn replacement rebates
Turf replacement rebates of $3 per square foot are available for residents in the Water Authority service area, she said. The rebates include $2 per square foot from the Metropolitan Water District of Southern California, with an additional $1 per square foot from the Water Authority, for up to 5,000 square feet of lawn converted in front or back yard.
German suggests residential customers use the rebate estimator to determine the amount they would receive for removing their turf.
"For example, if San Diego residents are removing 1,000 square feet of turf, their rebate will be $3,000 – $2,000 from MWD and $1,000 from the Water Authority," said German.
Free landscape makeover help
For landscape makeover assistance, German encourages residents to visit WaterSmartSD.org, the Water Authority's conservation website, and take advantage of free landscape education through the WaterSmart Landscape Makeover Program. This program assists homeowners with landscape transformations through a variety of virtual formats including:
Three-hour workshops
Four-class series
Videos on demand
Homeowners can also visit the website to find landscape resources such as free onsite audits, finding a landscape professional, rebates on indoor and outdoor water saving devices, links to programming irrigation controllers, an online plant database and how to install a rain barrel.
Other water-saving practices include turning off irrigation systems when rainstorms are predicted (and leave them off for at least a week after significant rainfall) and installing rain barrels or cisterns to help capture stormwater from roofs and store it for future irrigation use.
"Adjusting irrigation is an easy way to increase water efficiency, since landscapes need less water as the days get shorter and cooler," said German.
Rebates are also available for weather-based irrigation controllers, soil moisture sensors, rain barrels or cisterns. There are also incentives for commercial customers to increase their water efficiency, with indoor and outdoor rebates. The rebates are processed through SoCal WaterSmart.
https://www.waternewsnetwork.com/wp-content/uploads/2020/11/Jaross-WSLMS-after-WNN-primary-2.jpg
450
845
Ed Joyce
https://www.waternewsnetwork.com/wp-content/uploads/2018/02/water-news-network.png
Ed Joyce
2020-11-23 07:04:54
2020-11-23 07:05:56
Lawn Rebates for Fall Planting Season