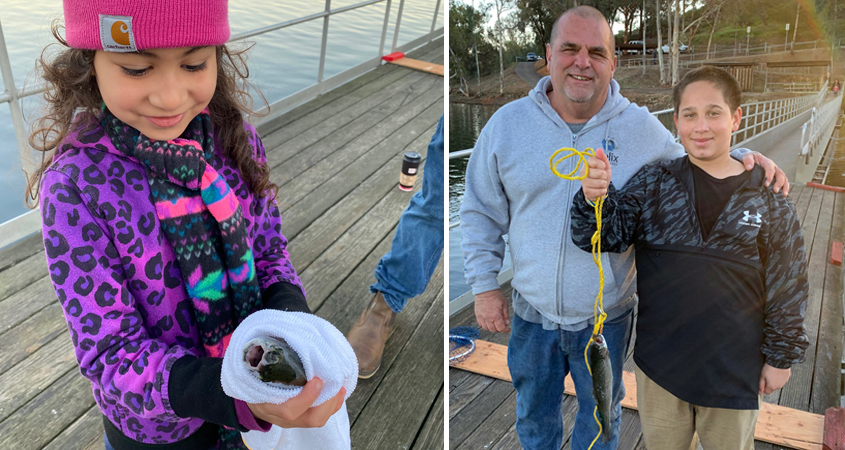 Hundreds of pounds of rainbow trout were biting for participants on Saturday during the sixth annual Kids Fishing Day at Lake Jennings in Lakeside.
The event started in 2015 has been an annual highlight ever since its inception. Kids ages 9 and under fished for free all day Saturday at the Kids Pond, which is a 20-by 20-foot cube within the lake.
Recreation Manager Kira Haley says Lake Jennings was stocked with 2,000 pounds rainbow trout from Wright's Rainbows in Thatcher, Idaho the week of February 3. Eight hundred pounds went directly into the Kids Pond, which is then attached to the floating accessible fishing dock.
"Kids don't remember their best day in front of the television, but they remember the first day they caught a fish with a proud parent cheering them on," said Haley.
Two hundred kids got to catch and take home a trout. Haley says kids as young as two years old participated with a little adult help, including volunteers from the Lakeside Optimist Club, who helped prepare the fishing rods for the kids. Bait choices included nightcrawlers, cheese, white power worms, and mealworms.
Lake Jennings home to trout, catfish, bass, bluegill and sunfish
Operated by the Helix Water District, Lake Jennings stocks 20,000 pounds of trout annually on a biweekly schedule between November and April when water temperatures are cool enough for trout to survive and 10,000 pounds of catfish in the warmer summer months.
In addition, large-mouth bass, red-ear sunfish and bluegill, as well as channel and blue catfish live in Lake Jennings. Sign up for the Lake Jennings Fish Report online to see what fish are biting.
Recreational fishing is the second most popular leisure activity in the U.S., second only to running. While the majority of avid fishermen and women are over 45, approximately 11.25 million youth ages six to 17 participate in fishing in the U.S. annually
https://www.waternewsnetwork.com/wp-content/uploads/2020/02/Kids-Fishing-Day-2020-845X450.jpg
450
845
Gayle Falkenthal
https://www.waternewsnetwork.com/wp-content/uploads/2018/02/water-news-network.png
Gayle Falkenthal
2020-02-11 05:38:40
2020-02-13 18:09:37
Lake Jennings Hosts Kids Fishing Day