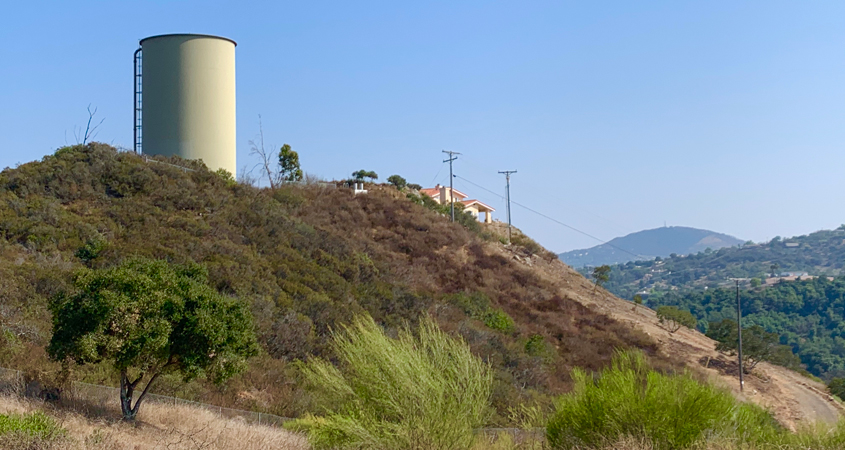 The San Diego County Water Authority is gearing up to construct a 2.1 million-gallon drinking water reservoir on the Valley Center Pipeline to enhance service reliability throughout the region. The Hauck Mesa Storage Reservoir project in northern San Diego County is part of the Water Authority's Capital Improvement Program.
Construction work is scheduled to begin in early 2021 and is estimated to be completed in the winter of 2022. The project includes demolition of an abandoned steel tank, and construction of a new 2.1 million-gallon concrete reservoir, isolation vault, and underground flow control facility, as well as other site improvements.
New infrastructure development by the Water Authority and its 24 member agencies ensures the delivery of water to support the region's $245 billion economy and the quality of life for 3.3 million residents.
Hauck Mesa Storage Reservoir
The new storage reservoir will improve water deliveries by temporarily storing drinking water pumped to the Valley Center Municipal Water District, Vallecitos Water District, Vista Irrigation District, and the Rincon del Diablo Municipal Water District from the Claude "Bud" Lewis Carlsbad Desalination Plant and the Twin Oaks Valley Water Treatment Plant. The stored water will safeguard water deliveries from unanticipated water interruptions or pump station outages.
"This project is just one of the infrastructure improvement projects the Water Authority is undertaking to fulfill the agency's mission to provide a safe and reliable water supply for today and the future," said Kirk Whitaker, the Water Authority's project manager.
The Water Authority will work closely with the Valley Center community, Valley Center Municipal Water District, and homeowners to minimize short term construction impacts in the area to ensure safe, uninterrupted water service. For more information on the Hauck Mesa Storage Reservoir project, go to the Water Authority's Future Projects webpage.
https://www.waternewsnetwork.com/wp-content/uploads/2020/10/Hauck-Mesa-Storage-Reservoir.jpg
450
845
Kimberlyn Velasquez
https://www.waternewsnetwork.com/wp-content/uploads/2018/02/water-news-network.png
Kimberlyn Velasquez
2020-10-26 07:56:50
2020-10-26 07:56:50
Hauck Mesa Storage Reservoir to Improve Water Reliability