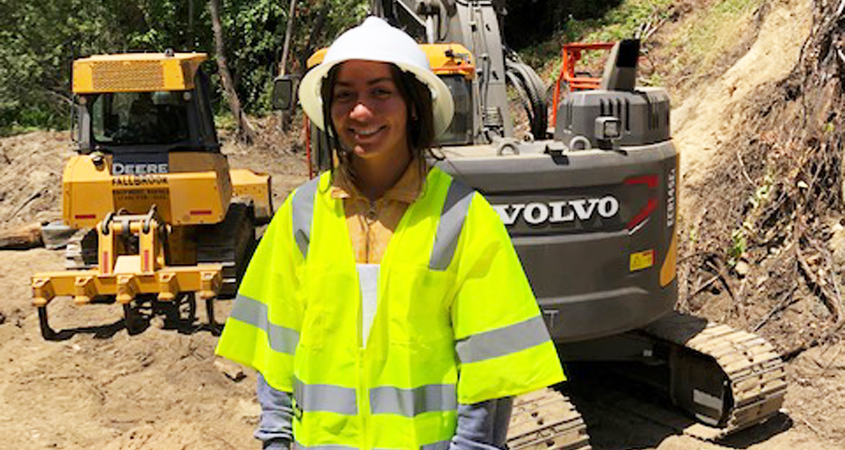 The Fallbrook Public Utility District's intern program is designed to prepare potential future employees to fill jobs that open up due to the 'silver tsunami' or wave of retirements in the water industry.
Mary Maciel, a junior at Fallbrook High, is Fallbrook Public Utility District's second paid summer intern. She spends four hours a day each Wednesday working with each department including public affairs, customer service, engineering, construction and maintenance, engineering, water and wastewater operations, and meter reading.
The goal of the internship is to increase interest in FPUD and potentially draw local talent to the district. It is designed to identify career opportunities in the water industry and provide a hands-on learning experience leading to a career with the Fallbrook agency.
Aaron Cook, the district's senior engineer, was born in De Luz and lived in the area until he went to college. He started his career after college in other cities, but wanted to come back home. He applied for his current  job as soon as he saw the opening. He has been at FPUD for nearly a year.
"It's definitely an attractive place to work for raising a family," Cook said.
In the next five to 10 years, FPUD expects a substantial number of employees to retire. And with retirements come job openings.
Growth trend in water industry career opportunities
Maciel says she could see herself working in the water industry in the future.
There are currently 12 FPUD employees eligible for retirement, which is about 18 percent of the district's workforce. As previously reported on Water News Network, it is an ongoing concern for the agency.
"These are good-paying jobs with good benefits, but you just don't find a lot of people coming out of school who are interested, and we are struggling to attract skilled employees from the private sector," said Jack Bebee, Fallbrook PUD general manager.
'Silver Tsunami' in water industry
Water News Network reports career opportunities are ample due to an imminent glut of retirements by an aging workforce. Forecasts call for between 1,200 and 1,500 open positions in the next three to four years in San Diego County alone, said Sandy Kerl, the San Diego County Water Authority's acting general manager.
Forty percent of employees at the Padre Dam Municipal Water District will retire within the next three to five years, said Lisa Sorce, human resources director. Representatives from other utilities presented similar numbers.
https://www.waternewsnetwork.com/wp-content/uploads/2019/08/Mary-Maciel-845X450.jpg
450
845
Gayle Falkenthal
https://www.waternewsnetwork.com/wp-content/uploads/2018/02/water-news-network.png
Gayle Falkenthal
2019-08-14 08:51:23
2019-08-14 10:39:21
Fallbrook High School Summer Intern Learns About Water Industry Career Opportunities