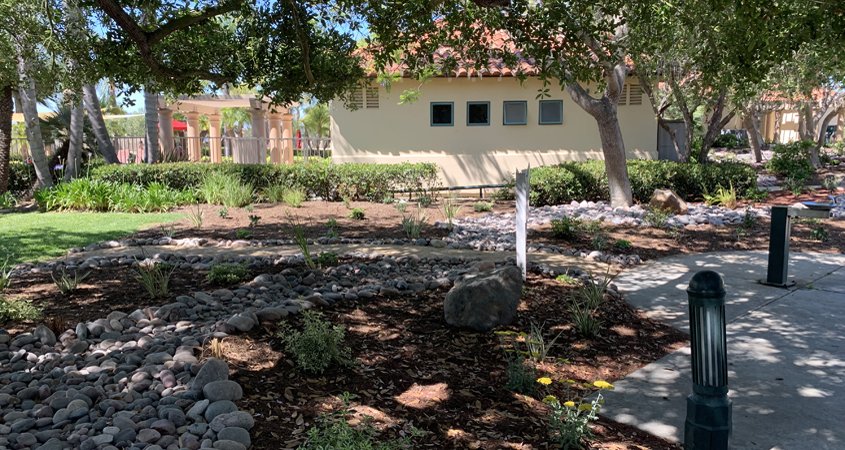 The Emerald Heights homeowner's association in Escondido recently completed a successful clubhouse upgrade including a landscaping makeover replacing existing turf with a beautiful drought-tolerant design.
The gated community is located within the Vallecitos Water District. It covers 6.2 acres including a private athletic club with tennis and basketball courts, plus a community pool and spa. The landscape of turf and trees surrounding the clubhouse area was not healthy. But it would be challenging to find plant materials well suited to growing in the microclimate under the shade trees.
Emerald Heights HOA representatives met with O'Connell Landscape and Maintenance. Jack Rush, O'Connell's executive vice president of operations, encouraged the HOA to take advantage of the SoCal WaterSmart turf replacement program.
"It incentivized them by offering rebates to help offset the construction costs [for the clubhouse]," said Rush.
WaterSmart landscape features appealing new look
The HOA had invested in irrigation system upgrades two years ago, including "baseline" smart controllers throughout the community. HOA board president Dan Cannon and committee members worked with HOA property manager Telsa Dubois of Allure Management and O'Connell Landscape Management, project manager Salvador Alvarado, and construction supervisor Basilio Diaz to craft the new plan.
Dry riverbed areas were established in place of existing turf, graded to capture water runoff into these areas. Cobblestones and boulders were added, along with plants featuring different leaf textures and unique flowers. Using plants at different heights enhanced the landscape area and gave it a more eye-appealing look.
Throughout the property, point-to-point drip system irrigation was installed. All remaining spray heads were replaced with drip fixtures.
Ongoing savings help pay for community upgrades  
O'Connell applied for the incentive program on behalf of Emerald Heights HOA through the Metropolitan Water District of Southern California. It was able to remove 2,746 square feet of turf surrounding the clubhouse and tennis court areas. The HOA received $8,238 in rebates for the turf replacement.
"The water savings is still too early to tell, but we estimate 50% to 60% water savings are possible," said Rush, based on the new plant materials and irrigation retrofitting. Rush says his firm will continue to explore more potential water savings for the community and work closely with members of the HOA.
The Emerald Heights HOA can file a turf replacement application each year to receive more turf rebates. Removing thirsty grass is one of the most water-conscious adjustments it can make to reduce its water usage and associated costs.
The Turf Replacement program is a two-part application process. To qualify for a rebate, customers must apply to reserve rebate funds before starting their project. The landscaping makeover must take place with 180 days, including the request for a rebate. Funding levels are subject to change based on availability at the time of rebate approval.
For more information about the turf replacement program, go to www.socalwatersmart.com and for more WaterSmart tips and additional rebate opportunities in the San Diego region, go to:  www.watersmartsd.org/
(Editor's note: The Vallecitos Water District is one of the San Diego County Water Authority's 24 member agencies that deliver water across the metropolitan San Diego region.)
https://www.waternewsnetwork.com/wp-content/uploads/2021/11/VWD-HOA-after11-845X450.jpg
450
845
Gayle Falkenthal
https://www.waternewsnetwork.com/wp-content/uploads/2018/02/water-news-network.png
Gayle Falkenthal
2021-11-08 07:43:04
2021-11-08 11:38:23
Escondido HOA Saves Water, Costs with WaterSmart Landscape Upgrades