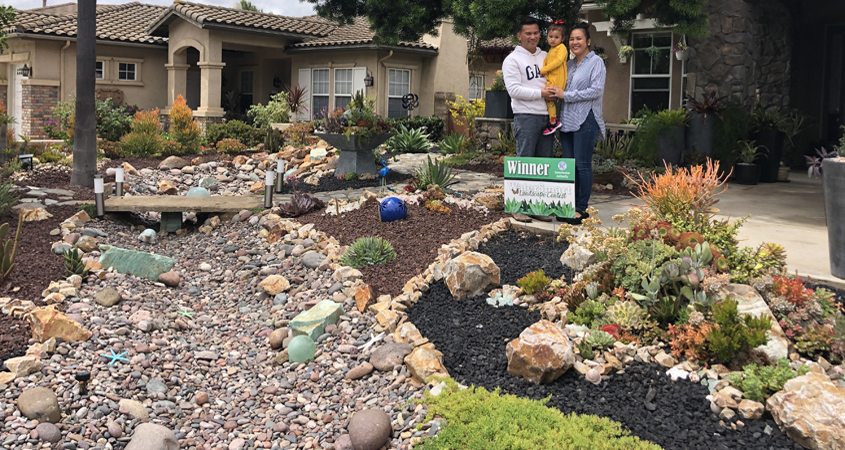 San Diego County residents who have converted to more water-efficient landscaping can enter the 2021 WaterSmart Landscape Contest hosted by 12 regional water agencies. Entry is as simple as submitting your photos and plant information by Friday, May 14.
Eleven San Diego County Water Authority member agencies are participating, including the Helix Water District, Otay Water District, and Sweetwater Authority. See the full list on the WaterSmartSD website, along with contest rules. Winners selected by each participating agency receive a $250 grand prize to the nursery of their choice along with neighborhood bragging rights.
The coronavirus pandemic spurred interest in gardening worldwide as a safe and healthy activity, with no signs of slowing. Google Trend data shows searches for gardening rising in April 2021. A report by OnePoll in USA Today found 73% of Americans said spending more time outdoors has been therapeutic during the pandemic.
Inspire others to make watersmart changes
In its 17th year, the contest highlights the benefits and beauty of water-efficient landscaping. It allows homeowners to share ideas and inspiration with other San Diego County residents.
Water-efficient landscape designs can be among the most effective ways to reduce overall water use. Fresh landscaping can also improve the appearance and the value of a home.
"If you have a new water-efficient landscape, we would love to hear your story," said Vince Dambrose, with the Helix Water District. "The WaterSmart Landscape Contest is a great opportunity to get outside, share your landscape, and inspire others to make changes in their yards, too."
Entries are judged for overall attractiveness, design, plant selection, efficient irrigation, and appropriate maintenance.
After a decade of struggling with a thirsty, high-maintenance lawn, Otay Water District's 2020 Landscape Contest winner Patricia Wood of El Cajon transformed her 3,850 square foot year into a beautiful and wheelchair accessible design with her daughter Kimberly in mind. She also decreased her water use decreased by an average of 27% overall.
"We are excited to launch the WaterSmart Landscape Contest this year," said Eileen Salmeron with the Otay Water District. "Due to the pandemic, many of our customers have spent more time than usual working on their landscapes. For this year's competition, we especially look forward to seeing how they've enhanced the curb appeal of their water-efficient gardens."
When Efren and Ily Niervas moved to their Bonita home in 2017, they realized the cost of watering their yard with a large lawn and assorted shrubs was too high. They decided to change their landscape and attended home improvement events and expos as part of their research.
The project paid off, as the Niervas won the 2019 Sweetwater Authority Landscape contest with their creative and playful xeriscape plan.
"In previous years, our customers have designed beautiful water-saving landscapes," said Leslie Payne with the Sweetwater Authority. "We're looking forward to seeing this year's creative designs. As customers look for ways to save water and lower their water bill, making water-efficient improvements to their yard is a great way to do both."
To enter the contest with your 2020-2021 pandemic era makeover, go to landscapecontest.com, select your participating water agency, and then apply. Entrants can use a smartphone to take five to 10 photos of their water-efficient landscaping, share the reason behind the makeover, list the types of plants used and some of the benefits as a result. Water agencies encourage homeowners to submit before and after photos. The 2021 Landscape Makeover Contest deadline is Friday, May 14.
https://www.waternewsnetwork.com/wp-content/uploads/2019/08/SWA-Landscape-Winners-Family_2373-845X450.jpg
450
845
Gayle Falkenthal
https://www.waternewsnetwork.com/wp-content/uploads/2018/02/water-news-network.png
Gayle Falkenthal
2021-04-21 18:14:16
2021-04-27 12:09:35
Enter 2021 Landscape Makeover Contest, Share Your Skills