The Water News Network's top three stories of 2019 reflect the San Diego region's interest in water conservation, sustainable landscaping, and successful efforts to diversify water supply sources.
Conservation
Colorful art created by elementary school students communicated the importance of saving water. This was the most viewed story of 2019.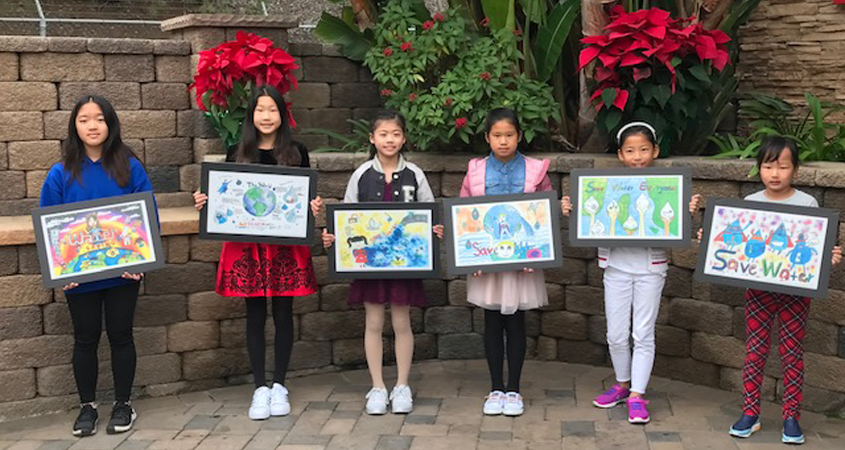 January 13, 2019
Eighteen talented San Diego, Coronado and Imperial Beach elementary school students used their artistic skills to communicate the importance of water conservation in the City of San Diego's Public Utilities Department 18th annual Kids Poster Contest. Winning entries in the contest are featured in the 2019 Water Conservation Calendar, which debuts this month.
"The City of San Diego's Public Utilities Department is proud to sponsor the yearly Kids Poster Contest," said Brian Hojnacki, a supervising management analyst for city utilities. "It allows us to involve first to sixth graders through art while learning and thinking about water conservation in our region. It's a win-win for us all."
The theme "How Am I A Water Conservation Hero?" asked students to imagine themselves saving water from being wasted. They could draw, paint, color, cut and paste original artwork depicting one important message about water conservation.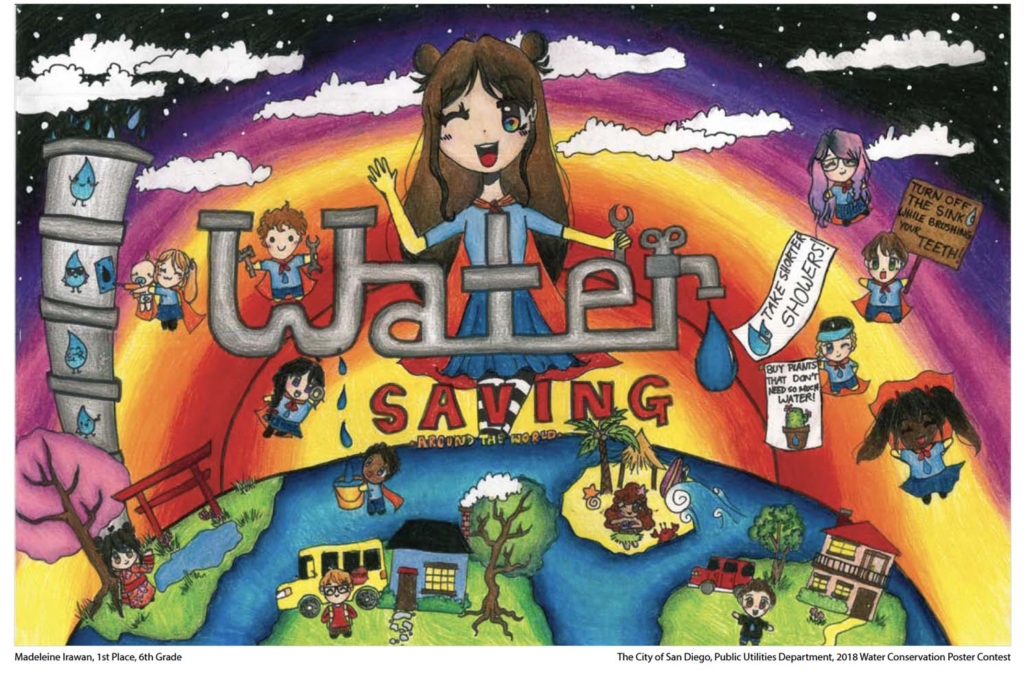 Sustainability
People living in the San Diego region continue to take advantage of rebate opportunities that encourage sustainability. A program that provided incentives to remove grass and replace it with sustainable landscaping proved popular in the spring. The Water News Network story about the rebates was also popular and the second-most read story of 2019.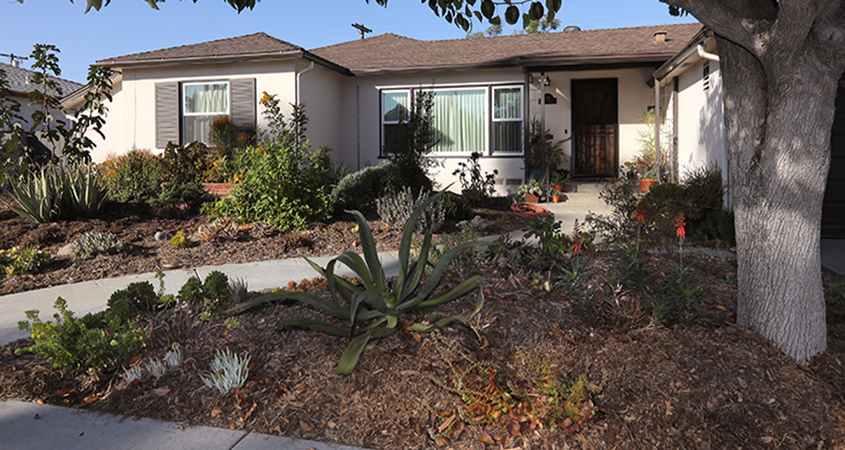 April 8, 2019
Removing grass can generate rebates of at least $2 per square foot for San Diego residents under new enhanced incentives that started this month.
As of April 1, the Metropolitan Water District is offering $2 per square foot for every square foot of grass removed from yards and replaced with sustainable landscaping.
"San Diego County homeowners and businesses know that sustainable landscapes are key to water reliability in our region," said Joni German, who manages the Water Authority's WaterSmart Landscape Makeover Program. "With the help of local landscape architects and designers, our WaterSmart Landscape Makeover Program gives them the knowledge and skills they need to be successful. WaterSmart landscapes are an upgrade, not a compromise."
Infrastructure
The San Diego County Water Authority sustains a $245 billion regional economy and the quality of life for 3.3 million residents through a multi-decade water supply diversification plan, major infrastructure investments and forward-thinking policies that promote fiscal and environmental responsibility.
California officials toured some of that infrastructure in July as they worked to prepare a water resilience portfolio for the state. Our reporting on the July 18 water portfolio tour was the third most read story of 2019 on the Water News Network.
July 18, 2019
State officials Thursday toured San Diego County water infrastructure to get a first-hand look at the region's successful water portfolio approach for supply diversification.
California Natural Resources Agency Secretary Wade Crowfoot, Deputy Natural Resources Secretary Thomas Gibson, State Department of Food and Agriculture Secretary Karen Ross, and State Water Resources Board Chair E. Joaquin Esquivel were here to assess the region's water projects as part of their new role in developing a water portfolio strategy for the state.
"San Diego has been a leader in the water portfolio approach," said Wade Crowfoot. "We have to make the investments to build regional water resilience as part of the Governor's order to develop a portfolio to manage water in California."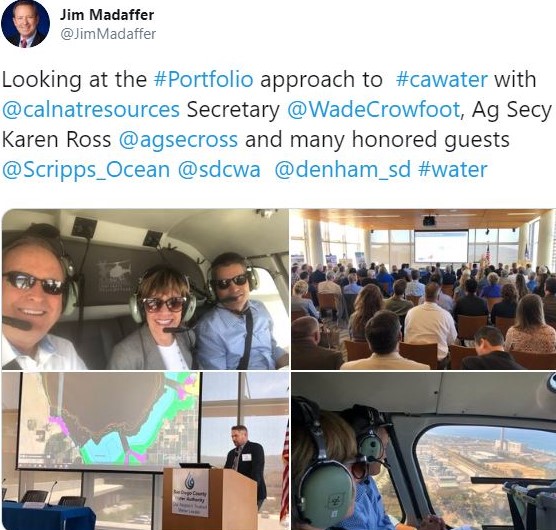 https://www.waternewsnetwork.com/wp-content/uploads/2019/12/Madeleine-Irawan-1stG6web-1030x674-2.jpg
674
1030
Mike Lee
https://www.waternewsnetwork.com/wp-content/uploads/2018/02/water-news-network.png
Mike Lee
2019-12-20 05:10:22
2019-12-25 07:53:04
Water News Network Top 3 Stories of 2019