Posts
https://www.waternewsnetwork.com/wp-content/uploads/2018/02/water-news-network.png
0
0
Ed Joyce
https://www.waternewsnetwork.com/wp-content/uploads/2018/02/water-news-network.png
Ed Joyce
2022-04-20 09:35:13
2022-04-20 09:46:32
San Diego Tree Week: Concerts and Free Trees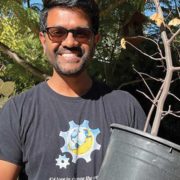 The Water Conservation Garden is celebrating Spring this year by launching San Diego Tree Week. The goal, from April 22-29, is to plant 1,000 trees and bring San Diego residents together through tree planting.
As drought stretches into a third year in California, The Water Conservation Garden hopes the tree week campaign will help educate and increase awareness of the environmental benefits of tree planting. Some of the benefits include removing carbon dioxide from the air, storing carbon in the trees and soil, and releasing oxygen into the atmosphere.
San Diego Tree Week and free trees
The Water Conservation Garden will kick off San Diego Tree Week with a free event and tree giveaway.
Certified arborist Jose Bedoya of Leaf it to Us Tree Service will lead a workshop on April 23, 10 a.m. – 11 a.m. on choosing the right tree for the right place. Bedoya teaches at Cuyamaca College, where he received a Certified Arborist Certificate.
The tree giveaway will follow the workshop. After the free tree event, another workshop will start at 11:30 a.m. on tree planting and care, led by Board Certified Master Arborist Brad Brown of Tree Life Consulting. In 2011, Brown obtained Registered Consulting Arborist status. A year later he became a Board Certified Master Arborist.
Registration and attendance to at least one of the workshops is required to receive a tree, which are first come first serve.
A few more hands-on ways to get involved include leading a tree planting event, volunteering at a local tree planting site, and becoming a tree planting site. They're also looking for financial help through donations, gifted tree seedlings, and sponsorship opportunities.
San Diego Tree Week concerts
Another way to participate with the whole family is attending the San Diego Tree Week Concerts. The concerts, sponsored by Union Bank, will feature certified double platinum singer, songwriter Ryan Cabrera and special guest Lexington Field.
The concerts are suitable for all ages and will close out Tree Week on April 26 and 27, 5 p.m. – 8 p.m. on both nights.
The venue on April 26 will be The Water Conservation Garden. The April 27 concert is at the Second Chance Beer Company. Tickets are $30 for members of the San Diego Children's Discovery Museum or members of The Water Conservation Garden; general admission is $40. Ticket sales from the April 27 San Diego Tree Week concert will benefit the San Diego Children's Discovery Museum.
Water conservation and sustainability
Six Joint Powers Agencies own The Garden and have contracted with Friends of the Water Conservation, a nonprofit organization, to manage it. The agencies are the San Diego County Water Authority, the City of San Diego, Helix Water District, Sweetwater Authority, Otay Water District and Cuyamaca College.
The mission of The Water Conservation Garden is to educate and inspire through excellent exhibits and programs that promote water conservation and the sustainable use of related natural resources.
(Editor's note: The City of San Diego, Helix Water District, Otay Water District, and Sweetwater Authority, are four of the San Diego County Water Authority's 24 member agencies that deliver water across the metropolitan San Diego region.)
https://www.waternewsnetwork.com/wp-content/uploads/2022/04/trees-main_1200x717-primary-Earth-Day-cropped.jpg
450
845
Noah Harrel
https://www.waternewsnetwork.com/wp-content/uploads/2018/02/water-news-network.png
Noah Harrel
2022-04-19 15:07:14
2022-04-19 15:08:06
San Diego Tree Week: Concerts and Free Trees