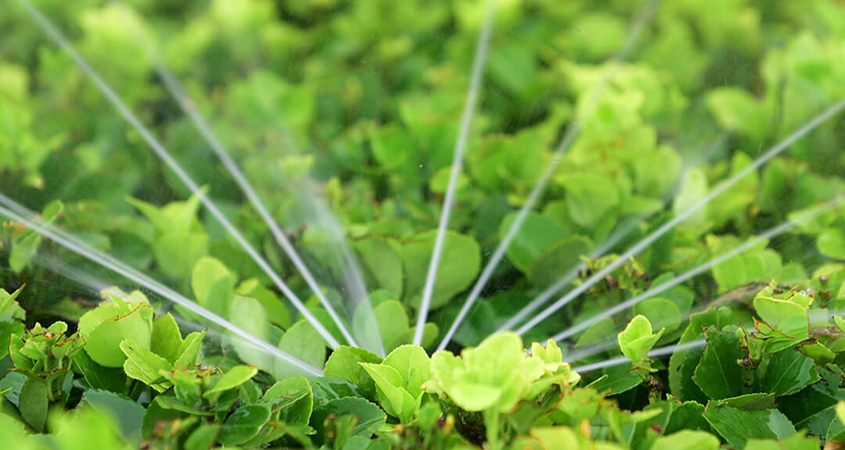 San Diego regional water agencies are sharing water-efficiency tips during "Smart Irrigation Month."
July is traditionally the month of peak demand for outdoor water use and the reason it was chosen as Smart Irrigation Month when it started in 2005. The month celebrates the social, economic, and environmental benefits of efficient irrigation for landscapes, recreation and agriculture.
Smart Irrigation Month highlights irrigation technology innovations and encourages water-efficient irrigation techniques to preserve the world's fresh water supply.
Member agency activities for Smart Irrigation Month 2019
The Otay Water District is helping its customers increase water-use efficiency during Smart Irrigation Month with a dedicated webpage of tips. Customers can apply for a free WaterSmart Checkup by calling 760-728-1332 or at watersmartcheckup.org
The Helix Water District also offers free home water use checkups to its customers by phone 619-667-6626 or email
And, the City of Oceanside Water Utilities Department is hosting a free Smart Irrigation Workshop at Mira Costa College on Saturday, July 13. The event has reached capacity, but customers can all 760-435-5816 to get on a waiting list and be notified about future events.
Nine Watering Tips For #SmartIrrigationMonth
July is an ideal month to perform a check on current irrigation systems and determine whether any practices can be improved to save water. The San Diego County Water Authority offers these nine Smart Irrigation Month tips:
Select sprinkler heads and nozzles that apply water uniformly to the target area.
Inspect your sprinkler heads regularly to make sure they are not obstructed or watering onto pavement or other hardscapes.
Upgrade to a smart controller. Weather and soil moisture-based controllers can automatically adjust your watering schedule based on the conditions at your location.
Use drip or low pressure, low volume irrigation which applies water directly to the base or roots of plants.
If water is applied too quickly, it can run off into the street or sidewalk. Smart irrigation regulates water pressure, ensuring water has a chance to soak into the ground.
Less is more when watering turf. Water long enough to soak down to the root zone, then don't water again until the soil is completely dry. If the grass springs back when you step on it, it has enough water.
The greatest waste of water in landscape irrigation comes from watering too much, too fast. Instead of watering 20 consecutive minutes, run sprinklers in four five-minute sessions. This allows water to soak into the soil and minimizes runoff.
A rain shut-off device is an inexpensive gadget to add to your sprinkler system.
Improve efficiency by watering at the coolest time of day. When it's hot or windy, more than a third of the water can be lost to evaporation.
Find more tips and information on Smart Irrigation Month at WaterSmartSD.org
https://www.waternewsnetwork.com/wp-content/uploads/2019/07/Smart-Irrigation-Month-SavingWater-845S450.jpg
450
845
Gayle Falkenthal
https://www.waternewsnetwork.com/wp-content/uploads/2018/02/water-news-network.png
Gayle Falkenthal
2019-07-09 15:35:37
2019-07-10 09:51:48
Smart Irrigation Month Highlights Water-Efficient Technology