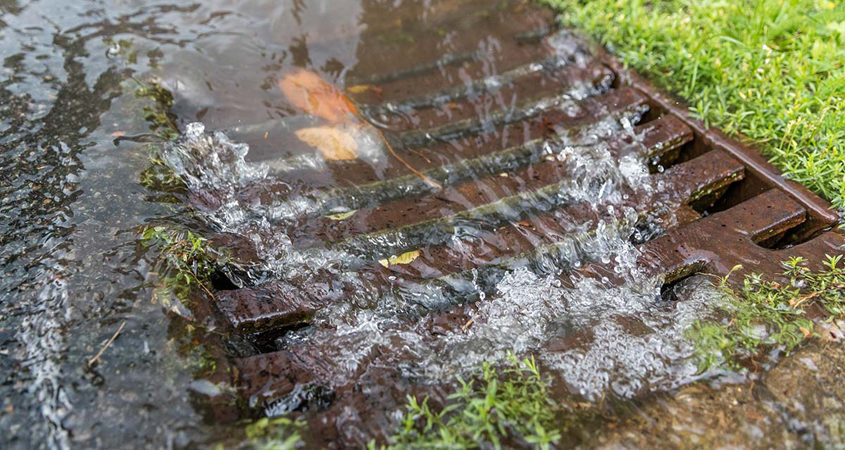 Because San Diego County gets so little natural rainfall, most residents must artificially irrigate their landscaping. Rainfall becomes a welcome sight when it occurs.
But rainfall turns into an unwelcome problem when it enters the storm drain system. After the first heavy rain in several months, stormwater runoff gathers pollutants building up on surfaces like rooftops, parking lots, sidewalks, and streets. This polluted water gets carried into street drains that dump out directly into the Pacific Ocean. Pollutants harm waterways and affect sea animals, plants, and the people who surf, swim, or dive in the ocean.
Residents may be contributing to this problem between rainstorms without realizing it. Your yard drainage system including French drains, weeping tiles, and sub-surface drains should not be used for non-stormwater water runoff.  They are intended only to prevent flooding by diverting rainwater from your property to the road or street.
If your irrigation system overflows from landscaping, or wash water runs off hardscapes or sidewalks, these non-stormwater activities may carry pollutants like pesticides, herbicides, and fertilizers into the storm drain system and cause the same negative effects as runoff from rainfall.
The County of San Diego's Watershed Protection Program in the Department of Public Works has created a webpage with useful information and photos to educate the public and assist in preventing watershed damage. Program Coordinator Christine A. Tolchin, QSD, QISP, CPESC says new information is added monthly.
Stormwater diversion tips
The website shares these tips to prevent non-stormwater runoff from carrying pollutants into our waterways.
Redirect sprinkler heads and hose down items such as patio furniture away from your yard drain.
Temporarily cover your yard drain with a bowl or mat when watering.
Use dry methods such as sweeping to clean your gutters, patio, and yard.
Your property should also integrate best practices to slow down and divert natural stormwater runoff after heavy rains. Three common methods include:
Detention: Protect against flooding by temporarily pooling runoff on your property, allowing pollutants to settle before being discharged to the storm drain system.
Infiltration: Divert stormwater runoff to areas where water can soak into the soil and benefit from natural filtering such as gravel, mulch, or grassy trenches.
Vegetated: Uses landscape plants and soil to remove pollutants from stormwater runoff through flow-thru planters, buffer strips, and vegetated swales.
Yard drains and diversion methods should regularly be cleared of debris so they operate properly and are ready for a storm event. It's a good time to do it now while the sun is shining in San Diego.
https://www.waternewsnetwork.com/wp-content/uploads/2020/08/sources-runoff-NIH.GOV-845X450.jpg
450
845
Gayle Falkenthal
https://www.waternewsnetwork.com/wp-content/uploads/2018/02/water-news-network.png
Gayle Falkenthal
2020-08-19 17:28:52
2020-08-19 17:37:48
San Diego County Website Helps Residents Protect Watershed