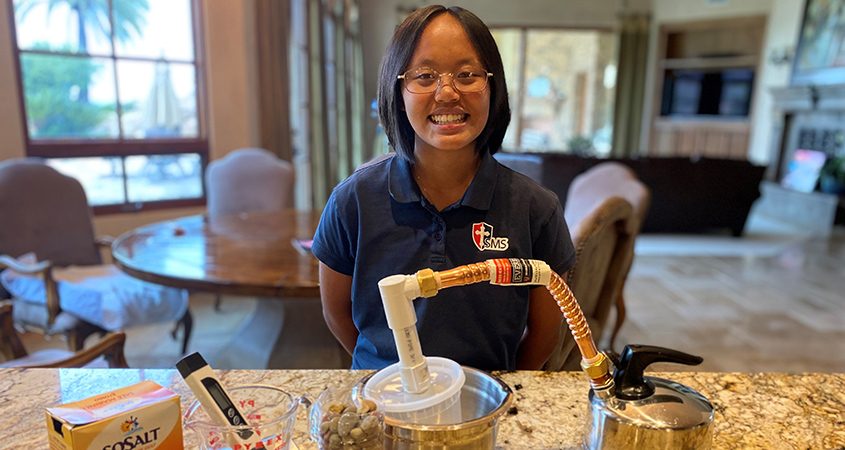 On April 28, the San Diego County Water Authority Board of Directors showcased this year's group of award winners from the Greater San Diego Science and Engineering Fair. The Water Authority has judged water-related projects in the fair for several decades as part of an effort to support STEM education in the region and inspire young people to pursue careers in the water industry.
Each year, the fair showcases hundreds of innovative projects created by middle and school students. The water-related projects often aim to solve a variety of global water issues.
High school students find practical solutions for global water issues
In the senior division, Issa Alwazir from Bright Horizon Academy in San Diego designed and built a water filter that can produce drinkable water using natural resources that are found in developing nations.
Fahad Majidi, also from Bright Horizon Academy, won second place in the senior division with a system for filtering greywater for residential use. Fahad tested his device on water in his home and is building a larger scale version for next year.
William Maywood from Bonita Vista High School in Chula Vista earned third place in the senior division. William tested Otay Lakes Reservoir's water quality to determine its probability for eutrophication, which is when the richness of the nutrients in a body of water reaches increased or excessive levels.
Middle school students understand importance of clean, reliable water
In the junior division, Alana Bridges from St. Gregory the Great Catholic School in San Diego won first place by testing several methods of water purification, including solar disinfection, bleach and a natural filter, to determine which produced the purest water.
In second place, Paddy Ward from St. Didacus Parish School in San Diego used PVC pipes to design and build a drip irrigation system that could scale for agricultural use.
Cassidy Chan and Jessica Talavera from St. Michael's School in Poway teamed up to win third place in the junior division. Their project was focused on testing different methods of desalinating water to determine which was most effective.
Through the K-12 education program and events like the Science and Engineering Fair, the Water Authority encourages students throughout the region to become next generation of water industry professionals.
https://www.waternewsnetwork.com/wp-content/uploads/2022/04/cassidy-chan-845x450-1.jpg
450
845
Kristiene Gong
https://www.waternewsnetwork.com/wp-content/uploads/2018/02/water-news-network.png
Kristiene Gong
2022-05-05 15:10:55
2022-05-05 15:22:23
San Diego County Students Discover Practical Water Solutions