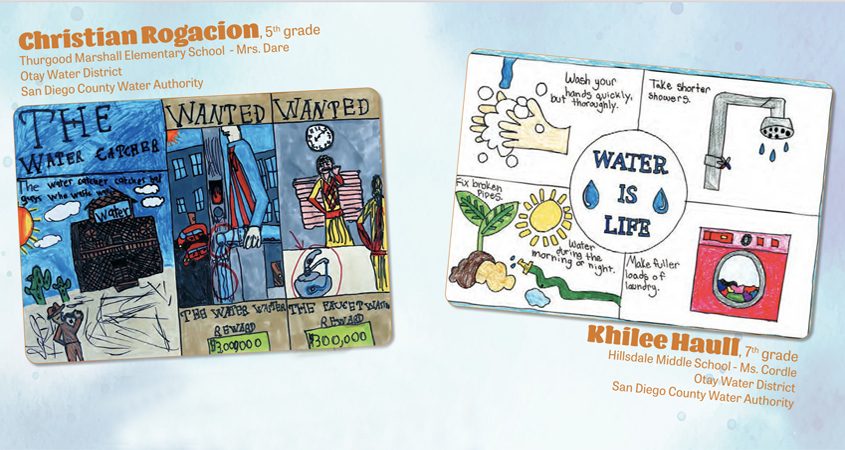 Six San Diego County student artists are among the 37 Southern California students whose artwork will appear in the 2023 "Water Is Life" Student Art Calendar.
The "Water is Life" Student Art Calendar is produced annually by the Metropolitan Water District of Southern California, or MWD. It showcases student artwork visually illustrating important water conservation messages. Member agencies submit artwork for consideration among the winners of their local competitions.
The six regional winners for 2023 were invited to describe the inspiration behind their artwork in a virtual award ceremony to honor their achievements on December 8.
"You give us hope for a better future," MWD board chairwoman Gloria D. Gray told the students.
Student winners from the San Diego region
Catalina Jones, a sixth grader at Lemon Avenue Elementary School, and Clare Brandt, a third grader at Our Lady of Grace School, represent the Helix Water District in the calendar. Jones won third place in the Grades 5-8 category, and Brandt won an honorable mention in the grades K-4 category in the Helix WD competition. Catalina's teacher is Lori Korovec, and Clare's teacher is Jessica Collins.
Second grader Melanie Garcia from El Toyon School represents Sweetwater Authority with her artwork. Her captions are "Water is Life. I Love Water. Water is the best." Her teacher is Silvia Loera-Toledo.
Two students from the Otay Water District have their artwork featured in the calendar. Khilee Haull is a seventh grader at Hillsdale Middle School and won first place in the Otay WD contest. Christian-Kealoha Rogacion is in the fifth grade at Thurgood Marshall Elementary School and won second place in the Otay elementary school category. Christian's teacher is Mrs. Dare.
"With daily reminders about the drought that we have in Southern California, I thought it was important to incorporate this into the art curriculum, and we did have a lot of fun with it," said Elizabeth Cordle, Khilee's art teacher. "It was very rewarding as an art teacher to see how creative students could be."
Water awareness
"We are proud of the creativity and water awareness that the students representing Otay have demonstrated through their posters," said Eileen Salmeron, communications assistant, and poster contest coordinator. "As California's drought continues, the artwork in this calendar will serve as a reminder that when it comes to water, every drop counts."
Conservation message through artistic expression
"Every year, students show us their artistic talents in helping us promote the need and value of saving water through their imagination and creativity," said MWD General Manager Adel Hagekhalil. "I am so thankful for this opportunity to engage with the youth of Southern California, as they are our future leaders and innovators."
The "Water is Life" Student Art Calendar was created 34 years ago. It selects student art submitted from grades K through 12 to help convey vitally important water conservation messages. The annual calendar is distributed to 13,000 recipients each year.
(Editor's note: The Sweetwater Authority, Helix Water District, and Otay Water District, are three of the San Diego County Water Authority's 24 member agencies that deliver water across the San Diego County region.) 
https://www.waternewsnetwork.com/wp-content/uploads/2022/12/MWD-Calendar-2023-Otay-Students.jpg
450
845
Gayle Falkenthal
https://www.waternewsnetwork.com/wp-content/uploads/2018/02/water-news-network.png
Gayle Falkenthal
2022-12-27 17:56:22
2022-12-27 17:56:22
San Diego County Student Artwork Featured in 2023 Calendar