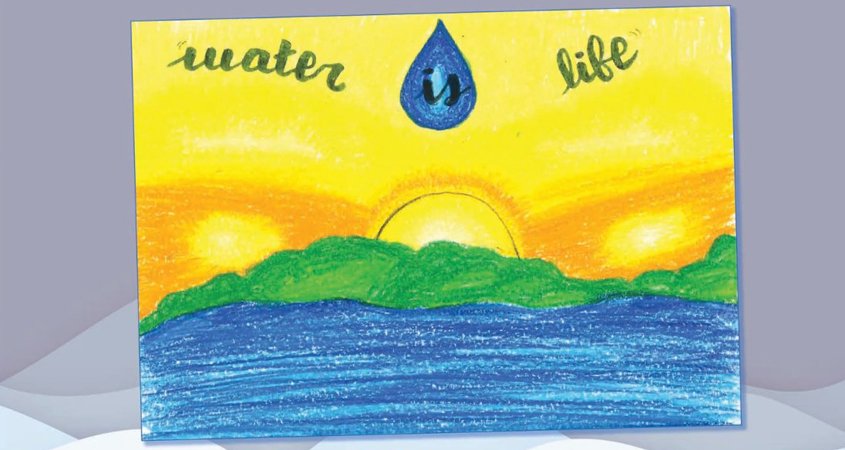 Six talented San Diego County artists from the region's schools are among the 36 Southern California students whose artwork will appear in the 2021 "Water Is Life" Student Art Calendar.
Produced by the Metropolitan Water District of Southern California, the "Water is Life" Student Art Calendar showcases student artwork with imaginative water conservation and water resource stewardship messages. Students in grades K-12 submitted artwork through participating member agencies, after winning their local competition.
This year, the six regional winners, their families, and member agency representatives participated in a virtual award ceremony to honor their achievements on Dec. 17.
Winning students from the San Diego region
Art from Jose Sabedra, a fourth-grader from Bostonia Language Academy and Mina Saeed, also a fourth-grader at Lexington Elementary School, appear in the calendar. They won the Helix Water District competition. Sabedra's teacher is Sara Meier, and Saeed's teacher is Holly Hemming. June features Sabedra's art and Saeed's winning work covers September.
"We are always impressed by the creativity and talent of the student artists from our district, and this year was no exception," said Jennifer Bryant, Helix Water District director of administrative services. "Congratulations again to Jose Sabedra and Mina Saeed – we are proud to see your water conservation artwork represent Helix in MWD's 2021 Water is Life calendar."
Sisters Lucia Perez Valles and Sofia Perez Valles both have winning artwork from the Otay Water District in the 2021 calendar. Both attend Olympian High School. Lucia is a sophomore, and Sonia is a senior. Lucia's art appears on the July page, and Sonia's appears in November.
"It is important to provide this opportunity to students in our service area, especially during the pandemic because water education is always important," said Eileen Salmeron, Otay Water District communications assistant. "We're proud of all the participants from Otay, including the Valles sisters, for demonstrating their awareness of how essential water is to our everyday quality of life."
From the Padre Dam Municipal Water District competition, sixth graders Sarah Bernier at Joan MacQueen Middle School in Kim Asfazadour's class, and Violet Jacobson at Hill Creek Elementary School in Mrs. Kelly's class both have posters in the calendar. Bernier's art appears on the November page, and Jacobson's on the December page. This is the second year in a row Violet Jacobson's artwork appears in the MWD regional calendar.
"I am so proud of the talented students who are representing Padre Dam in the 2021 Water is Life Calendar," said Emma Shea, Padre Dam Municipal Water District communications coordinator. "These young artists have done a fantastic job at portraying the importance of water conservation as a way of life."
Artistic expression provides environmental education  
The "Water is Life" Student Art Calendar curates student art submitted from grades K-12 that carry a conservation message. Hundreds of entries are judged and 36 are featured in the annual calendar, which is distributed to about 13,000 recipients each year.
https://www.waternewsnetwork.com/wp-content/uploads/2020/12/Lucia-Perez-Valles-Otay-Winner-2021-845X450.jpg
450
845
Gayle Falkenthal
https://www.waternewsnetwork.com/wp-content/uploads/2018/02/water-news-network.png
Gayle Falkenthal
2020-12-23 09:00:48
2020-12-23 09:19:22
San Diego County Student Artists Shine in 2021 Calendar