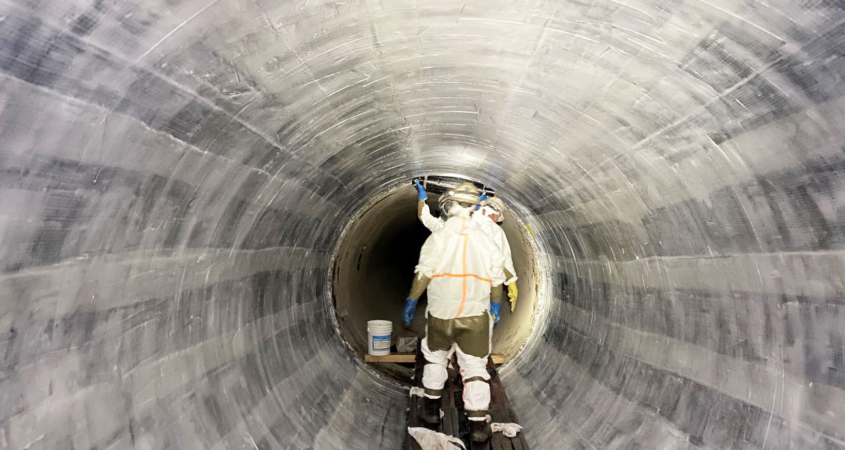 This week, crews are installing a carbon fiber lining inside Pipeline 5 in North San Diego County between Fallbrook and Escondido. The work is essential to maintain the 96-inch pipeline that delivers untreated water from Lake Skinner in southwest Riverside County to the Lower Otay Water Treatment Plant in southern San Diego County.
The work began at the end of March when Pipeline 5 was shut down for the installation of two internal steel bulkheads. The bulkheads allow the rest of the pipeline to stay in service while work is performed in an isolated section.
"Ensuring that water supplies continue to be reliable for all of the region's 3.3 million residents and businesses is our priority," said Jim Fisher, director of operations and maintenance at the Water Authority. "We are performing this essential repair to one of our largest pipelines to make sure that there are no interruptions in service to our member agencies."
The carbon fiber installation is anticipated to be complete by the end of next week. Carbon fiber is a highly effective solution to reinforce the stressed areas of the pipe and extend its lifespan.
Proactive asset management program detects issues before they arise
Pipeline 5 was built in 1982 and is a part of the Water Authority's Second Aqueduct, which includes Pipelines 3, 4 and 5.
In August of last year, Water Authority staff detected a leak in nearby Pipeline 4 at Moosa Creek and inspected the other two pipelines at that location. During that inspection, Pipeline 5 showed signs of stress, where the operating pressure within the pipe exceeds 400 pounds per square inch. A failure of the large-diameter pipeline would cause significant damage to the environment and nearby pipelines.
The proactive and timely repair to Pipeline 5 is part of the asset management program, which is a key element of the Water Authority's commitment to providing a safe and reliable water supply to San Diego County. Making preventative repairs to large-scale infrastructure ensures that regional water service will continue uninterrupted.
After installation of the carbon fiber is complete, a second shutdown to remove the isolation bulkheads is anticipated to take place in May, after which the pipeline will return to normal service.
Protecting the health of essential workers during COVID-19
To ensure safety and health, most Water Authority employees have been working from their homes since mid-March. For those employees who need to be at work sites, strict precautions are being taken by limiting the number of people present, maintaining physical distance, requiring all employees to wear protective gear and providing hand washing stations where possible.
https://www.waternewsnetwork.com/wp-content/uploads/2020/04/P5April2020_845x450-e1586981474706.jpg
450
845
Kristiene Gong
https://www.waternewsnetwork.com/wp-content/uploads/2018/02/water-news-network.png
Kristiene Gong
2020-04-16 09:26:23
2020-04-16 09:26:23
Pipeline 5 Upgrades in North San Diego County Halfway Complete