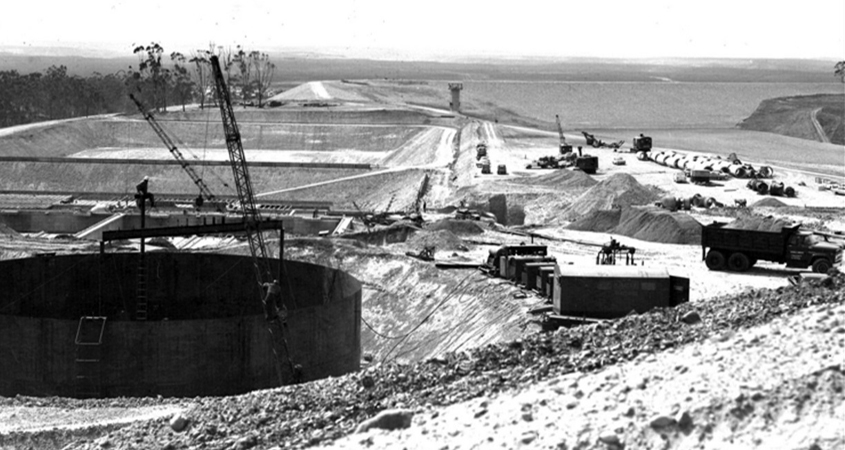 For 60 years, Miramar Reservoir has been an integral part of the City of San Diego's drinking water system and offers San Diegans a popular recreational area. Now, the reservoir is being called into service to play a vital part in San Diego's future Pure Water system to sustain a reliable water supply.
The City of San Diego is commemorating the 60th anniversary of Miramar Reservoir, its role in the region's history, and the part the reservoir will play in the future.
"We celebrate not only Miramar Reservoir's past, but the critical role it will play when the Pure Water system is completed," said Shauna Lorance, director of the San Diego Public Utilities Department. "Miramar Reservoir will continue to be a key part of our water system for many years to come."
Role in San Diego's history
Miramar Reservoir marks 60
Miramar was the last of the City's nine reservoirs to be developed. It was completed in 1960 as part of the second San Diego Aqueduct. The location previously had been the site of a small reservoir serving the vast ranch of newspaper publisher Edward W. Scripps.
Water flowing south to the reservoir originates from both the Colorado River Aqueduct and the California Aqueduct. The earthen embankment dam has a maximum height of 165 feet measured from the downstream toe, and has a base of 1,180 feet.
It was constructed by contractors Einer Brothers Inc. of Escondido and McCammon Construction, for $1.42 million. Land acquisition and engineering costs were approximately $730,000. Funds for the project came from an $11 million water bond approved by San Diego voters in June 1958.
When full, the reservoir covers 274 surface acres, reaches a maximum water depth of 114 feet, and has four miles of shoreline. Miramar Reservoir has a water storage capacity of 6,682 acre-feet.
Miramar Water Treatment Plant, which was completed in 1962 at a cost of $3.5 million, and expanded and upgraded in 2010, treats and filters drinking water distributed to customers in the northern part of San Diego.
Since the mid-1960s, the reservoir has been a popular recreational destination. An estimated 100,000 people visit Miramar each year to enjoy jogging, walking, biking, fishing, boating, picnicking, among other activities.
Miramar Reservoir to become part of Pure Water San Diego
When the Pure Water system comes online, Miramar Reservoir will switch from holding imported water to holding purified water received through a pipeline from the planned North City Pure Water Facility. After water has been purified at the North City Pure Water Facility, it will then be transferred via pipeline to Miramar Reservoir. The Miramar Water Treatment Plant will clean the water again, and the water will be distributed to homes and businesses throughout northern San Diego.
Miramar Reservoir will continue use into the foreseeable future as it helps provide one-third of San Diego's water supply locally by the end of 2035.
https://www.waternewsnetwork.com/wp-content/uploads/2020/12/Miramar-Construction-Jeff-Pasek-City-SanDiego-845X450.jpg
450
845
Gayle Falkenthal
https://www.waternewsnetwork.com/wp-content/uploads/2018/02/water-news-network.png
Gayle Falkenthal
2020-12-08 05:53:05
2020-12-08 07:09:51
Miramar Reservoir Marks 60 Years of Service