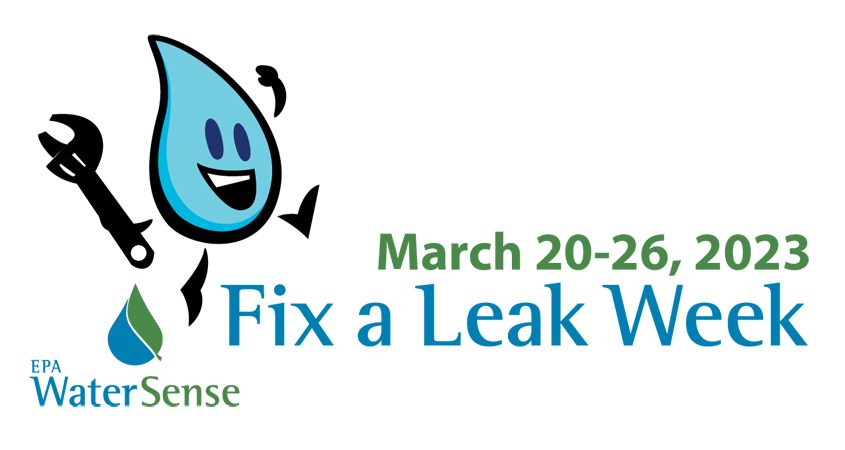 Fix a Leak Week is an opportunity for all water users to repair leaks and save our most precious resource.  The week (March 20-26) is a reminder every March to check indoor and outdoor plumbing systems for costly, wasteful water leaks.
Increasing awareness of opportunities to repair leaks is supported by the San Diego County Water Authority and its 24 member agencies, and by other regional WaterSense partners throughout North America.
"While Fix a Leak Week is a reminder to save water by repairing leaks, San Diegans continue to be WaterSmart by upgrading plumbing devices with high-efficiency toilets and low-flow showerheads, and by using smart irrigation controllers that automatically adjust with the weather," said Water Resources Specialist Debby Dunn, with the San Diego County. "We encourage residents and businesses to take advantage of the rebates available to save water indoors and outdoors."
Minor leaks, water waste
Minor water leaks account for more than a trillion gallons of water wasted each year in homes across the United States. For example, repairing a leaky toilet can save up to 500 gallons of water a day. In just a month, that's enough to fill a backyard swimming pool.
According to the EPA, an average household's leaks can account for nearly 10,000 gallons of water wasted every year. Homes with easily correctable leaks can waste 90 gallons or more per day. By fixing easily correctable leaks, consumers can save water cut an average of 10% off their monthly water bill.
Upgrade or repair leaking fixtures indoors and outside
The Water Authority has partnered with San Diego Gas and Electric to install nearly 4,000 WaterSense-labeled showerheads and 2,213 water-efficient toilets for residents. A $3 million grant from the California Department of Water Resources Urban Community Drought relief grant program will fund the installation of 7,300 additional toilets and smart irrigation controllers. The upgrades will save about 6,000 acre-feet of water. Replacing inefficient or leaking toilets with high-efficiency models reduces water use by 60%.
March Fix a Leak Week 2023
Regional water agencies help customers save water and money
The Vallecitos Water District added a new video for 2023 to its award-winning series helping customers find and fix leaks to save water and money. This year, Vallecitos Water District asks viewers to take the "10 Minute Challenge."
The Sweetwater Authority is offering tips for consumers and rebates of up to $75 for leak repairs made through June 30. Consumers can schedule a free water audit by calling the Water Efficiency Hotline at 619-409-6779 or email
The Sweetwater Authority also offers customers a $75 rebate to replace or install a new pressure-reducing valve at their home. The valves help to address high pressure that can cause increased wear on fittings, making them more prone to leaks.
A rebate of up to $100 is also available for qualifying leak detectors and flow monitors, which can alert customers to potential leaks through an app on their smartphone. Check out all the water efficiency rebates: www.sweetwater.org/rebates.
The Otay Water District offers helpful tips to fix leaks and save water on its website and its social media, including:
Check your water meter before and after a two-hour period when no water is being used. If the meter changes, you may have a leak. Visit otaywater.gov/how-to-read-your-meter to learn how to track your water use.
Place a few drops of food coloring in the toilet tank and wait 10 minutes without flushing. If color appears in the bowl, you have a leak.
Examine faucet gaskets and pipe fittings for any water on the outside of the pipe to check for surface leaks.
Easy fix for some leaks
Leaky showerheads or dripping faucets are often easy to fix, requiring common tools and hardware that can pay for themselves in water savings. How much? According to the EPA Fix-A-Week-Leak website, each average household with unaddressed leaks can account for 10,000 gallons of water loss every year, enough to wash 300 loads of laundry.
Investing just 10 minutes to perform a quick search of your home and fixing them can save an additional 10% on your water bill.
Check WaterSmartSD.org for tips and for more information about Fix a Leak Week.
To educate water users and promote the importance of repairing leaks to conserve and protect the water supply, Fix a Leak Week was created in 2009 by the Environmental Protection Agency WaterSense program.
(Editor's note: The Vallecitos Water District, Otay Water District and Sweetwater Authority are three of the San Diego County Water Authority's 24 member agencies that deliver water across the San Diego County region.) 
https://www.waternewsnetwork.com/wp-content/uploads/2023/03/falw-logo-2023-845X450.jpg
450
845
Gayle Falkenthal
https://www.waternewsnetwork.com/wp-content/uploads/2018/02/water-news-network.png
Gayle Falkenthal
2023-03-20 08:28:46
2023-03-20 14:28:08
Fix-A-Leak Week 2023 Saves Water, Environment