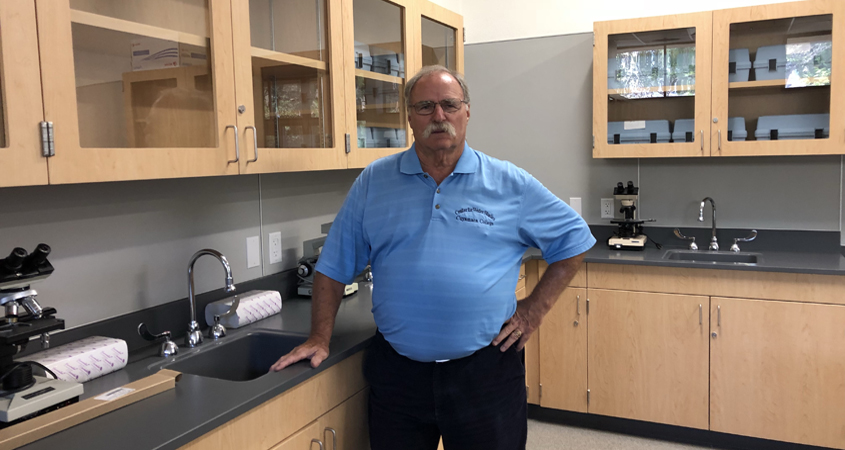 The transformation of Cuyamaca College's trailblazing Water and Wastewater Technology Program into the Center for Water Studies is all but complete.
Among the premier water and wastewater training facilities in California, the Center for Water Studies relocated in late August to a renovated complex complete with new classrooms, a water quality analysis laboratory and a workshop for back flow, cross-connection controls, and related skills-based courses. The complex sits next to a state-of-the-art field operations skills yard that opened in January, with an above-ground water distribution system and an underground wastewater collection system. The facility aims to simulate the challenges that students will face on the job in advanced water and wastewater facilities.
"With the completion of these new facilities, our Center for Water Studies is now the flagship water and wastewater technology program in the entire California Community Colleges' system, and one of the premier programs of its kind available anywhere in the western United States," said Don Jones, the veteran water industry professional overseeing the transition of Cuyamaca College's Water and Wastewater Technology program into the Center for Water Studies for the past decade.
The Grossmont-Cuyamaca Community College District's Proposition V construction bond provided $1.2 million in funding to reconstruct the building. Funds from the college's National Science Foundation's "California WaterWorks: Building the People Pipeline" grant helped pay for tools and equipment to foster a learn-by-doing environment. The Field Operations Skills Yard was built through approximately $200,000 from a California Community Colleges Strong Workforce grant, more than $70,000 from the National Science Foundation grant, and approximately $130,000 in pipe fittings, valves, meters and other equipment donated by water industry manufacturers and distributors.
Producing the next generation of water professionals
The Center for Water Studies is already making a difference in a region where water industry professionals are needed to replace the more than 1,200 industry employees who are at or nearing retirement age. The Center has been reaching out to high school students in STEM fields, transitioning military, women, and other traditionally underrepresented populations to explore water and wastewater technology careers. The Center collaborates with Grossmont Union High School District science instructors and water industry experts to develop specialized lesson plans related to water and wastewater management skills.
In January 2019, the Center for Water Studies will host the second annual Women in Water: Exploring Career Pathways symposium. Recently, nine Center for Water Studies students were among 17 selected to participate in the 2018-2019 San Diego Region Water and Wastewater Internships program supported by the Water Authority, its member agencies, and community college water and wastewater technology programs.
The Center's National Science Foundation grant, which totals almost $900,000, will cover the cost of curriculum development among the participating agencies and educators.
Water industry professionals supportive of program's goals
The Center for Water Studies evolved through discussions with the Cuyamaca College Water and Wastewater Technology Program's Industry Advisory Committee, which comprises water industry professionals from the Water Authority and many of its member agencies. Support from local water agencies has been strong. The Otay Water District's Board of Directors presented Cuyamaca College President Julianna Barnes with a $5,000 check for the new center in August.
An official dedication ceremony for the new complex is tentatively set for January.
https://www.waternewsnetwork.com/wp-content/uploads/2018/08/CC-Water-Studies-Ogul_3393-845X450.jpg
450
845
Gayle Falkenthal
https://www.waternewsnetwork.com/wp-content/uploads/2018/02/water-news-network.png
Gayle Falkenthal
2018-08-27 00:09:41
2018-08-28 13:26:34
Center for Water Studies Moves Into New Home at Cuyamaca College