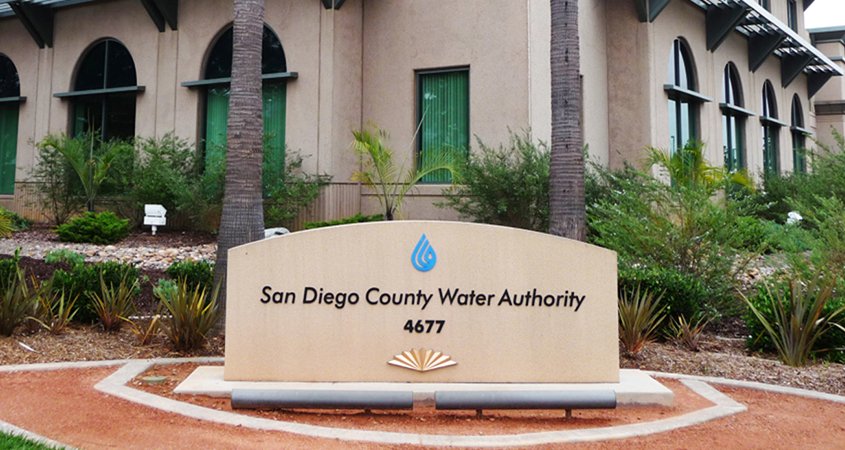 Water agencies across the region are seeking help from the County of San Diego and the 18 incorporated cities in the county to provide essential financial relief for households throughout the county that are facing growing water bill delinquencies due to the COVID-19 pandemic.
The water agencies are asking that the cities and the county allocate state and federal COVID relief funds to provide water bill offsets for financially strapped residents.
Local water suppliers "have not received any COVID-related funding assistance to help address the substantial water debt held by residents of our communities that would help to provide much-needed relief to water ratepayers," according to mid-February letters from water officials to county and city leaders.
Helping with water debt repayment a "high priority"
"It's very important to prioritize helping those San Diegans first who are at greatest risk of serious economic harm as a result of the pandemic so they can avoid exacerbating their dire financial conditions as the pandemic lingers," said the letters. "We believe that helping residents with water debt repayment should be one of those high priorities, and we look forward to working with you in the coming weeks to ensure that COVID relief funds that you receive from the State or through direct federal allocation are shared in the same spirit of partnership that we reach out to you today."
The letters were signed by the San Diego County Water Authority and 12 of its member agencies: the cities of Del Mar, Escondido and Oceanside, Sweetwater Authority, Otay Water District, Olivenhain Municipal Water District, Helix Water District, Padre Dam Municipal Water District, Vallecitos Water District, Vista Irrigation District, Rincon del Diablo Municipal Water District, and Valley Center Municipal Water District. California American Water, which serves Coronado and Imperial Beach, also signed the letters.
Debt crisis
"The water suppliers would commit to see that any resources received are allocated directly to offset water bill delinquencies that have accumulated since the beginning of the COVID pandemic, or that have materially increased over the past 10 months," said the letters.
"This accumulation of debt – along with other utility, rent, and unpaid bill debt – threatens to create a long-term and enveloping household economic crisis for thousands of San Diegans. While the water supplier community has worked closely with our Congressional partners and the Newsom Administration, there has not been COVID financial relief forthcoming directly to water suppliers to help customers with the growing crisis of household water debt."
Pandemic-related water bill debt
Recent reports show that nearly 70,000 households in San Diego County have accumulated pandemic-related water bill debt. It is estimated that San Diego County customers alone owe as much as $50 million in water bill payments that are currently delinquent and in arrears as a direct result of the pandemic.
$1 billion in unpaid water bills
The State Water Resources Control Board recently released the results of a statewide survey of water systems which found that California residents owe an estimated $1 billion in unpaid water bills that have accumulated since the Governor issued COVID-related emergency orders in early April 2020.
Under California law, water agencies are prohibited from taking money from reserves to pay off the debt for ratepayers behind on their bills.  "As a result, an independent source of funds, separate and apart from rate revenue, is necessary to provide the types of rate offsets and relief that are so desperately needed by our customers," the letters state.
The San Diego County Water Authority and its 24 retail member agencies do not make a profit. Rather, rates and charges support the infrastructure and supply that provides the safe, reliable water that fuels the region's economy and quality of life.
https://www.waternewsnetwork.com/wp-content/uploads/2021/02/water-authority-HQ-day-PRIMARY-2-1.jpg
450
845
Ed Joyce
https://www.waternewsnetwork.com/wp-content/uploads/2018/02/water-news-network.png
Ed Joyce
2021-02-18 07:29:26
2021-02-18 08:59:08
Agencies Seek Relief Funds to Cover Delinquent Water Bills