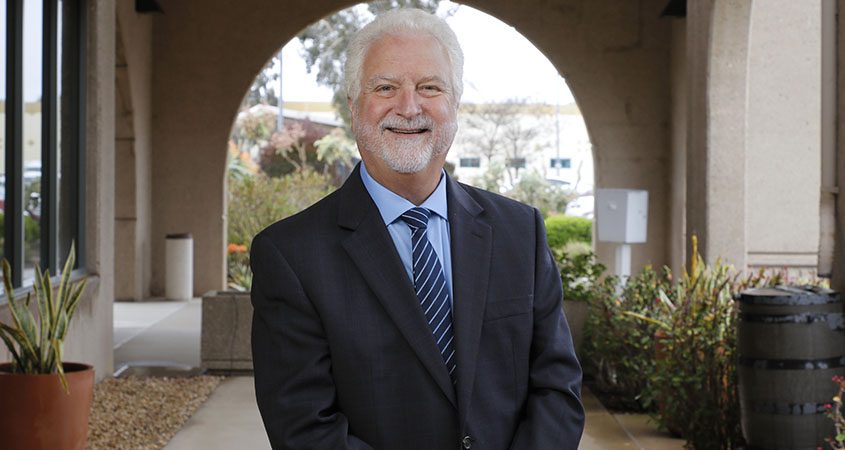 (Editor's Note: This feature highlights new members of the San Diego County Water Authority's 36-member Board of Directors. Each of the Water Authority's 24 member agencies appoints at least one representative to the Board, which sets policy for the Water Authority.)
Welcome to the Board: Neal Meyers, Olivenhain Municipal Water District
Who: Neal Meyers was seated on the San Diego County Water Authority Board of Directors on March 20, 2023, representing the Olivenhain Municipal Water District. Meyers serves on the Administrative and Finance and Imported Water committees for the Water Authority.
Background/Education: Meyers, a resident of Carlsbad, earned a bachelor's degree in political science with a concentration in local government administration from Cal Poly, San Luis Obispo, where he earned Highest Honors and a J.D. from the University of San Diego School of Law. He represents District 5 on the Olivenhain Municipal Water District Board of Directors and is also the Board treasurer. In addition to his duties as Treasurer, Meyers serves on OMWD's Finance, Safety, and Ad Hoc Insurance committees. He holds a certificate from the Special District Leadership Academy, and he was awarded a Certificate in Special District Governance from the California Special Districts Association. Member: The State Bar of California and Carlsbad Chamber of Commerce.
Water Industry Affiliations: Director, CalDesal Association, AdHoc Insurance Committee Association of California Water Agencies (ACWA).
Q & A
Q: How did you get interested in water issues?
A: My first interest in water issues was from the severe drought in the mid-1970s while growing up in the San Francisco Bay Area and then from the Proposition 9 peripheral canal vote while I studied local government as an undergraduate. After starting my professional career in San Diego County, I was privileged to represent many water agencies, where I gained a great appreciation of their many challenges, now exacerbated by severe periods of water shortages. I am very appreciative of the opportunity I now have to assist my local community and the region to work on those issues in a policy-making role.
Q: What are your priorities or interests as a Board member?
A: Maintaining a safe and reliable water supply at affordable rates. We must find ways to leverage San Diego County's forward-thinking investments in water infrastructure into a workable long-term business model that keeps water rates under control. Higher rates are not good for anyone, and we must especially must keep in mind the disproportionate burden higher rates have on low-income ratepayers and the underserved. We should also spend more time looking at developing greater coordination and sharing of resources between our many county public utility agencies.
Q: Besides maintaining safe and reliable water supplies, what do you see as the top three issues facing the San Diego region?
A: Removing barriers to affordable housing, appropriately allocating transportation infrastructure resources, and maintaining high-quality, affordable education at all levels throughout our region.
Q: What do you like to do when you are not working?
A: Family, friends, exercise, and travel. I figure if I can keep that all in balance, I will be around for a while to think about water.
The Water Authority's Board of Directors typically meets on the fourth Thursday of each month. The Board invites the public to attend its monthly meetings and to comment on agenda items or other matters before the Board. For meeting times, agendas and documents, go to​ www.sdcwa.org/board-directors
https://www.waternewsnetwork.com/wp-content/uploads/2023/05/Neal.Meyers.3.23.2023.jpg
450
845
Ed Joyce
https://www.waternewsnetwork.com/wp-content/uploads/2018/02/water-news-network.png
Ed Joyce
2023-05-15 15:52:43
2023-05-15 15:52:43
Welcome to the Board: Neal Meyers, Olivenhain Municipal Water District