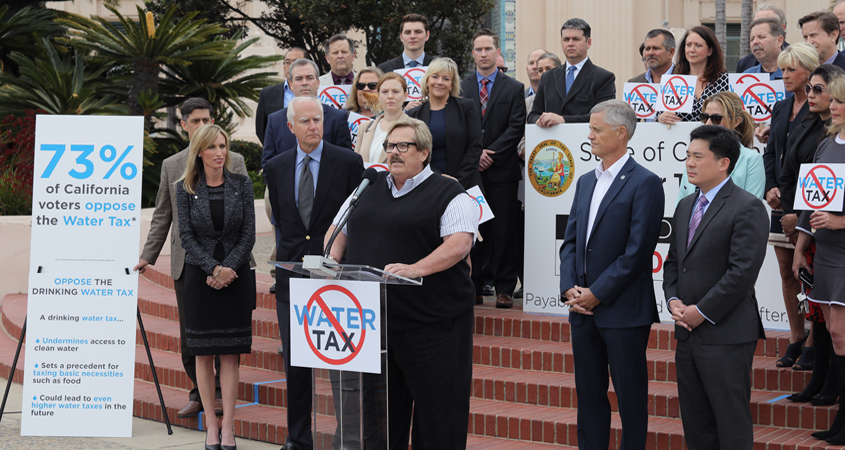 A coalition of business, civic and water industry officials from across San Diego County has joined forces to oppose a proposed $135 million per year tax on drinking water in California that would harm ratepayers and likely result in a flood of additional taxes on the state's most precious natural resource.
During a news conference this morning at the County Administration Center, regional leaders offered other funding solutions to improve water quality in poor, rural areas of the state without adding another tax burden to residents in one of the nation's most expensive states.
See video highlights of the news conference here.
Supervisor Kristin Gaspar, chairwoman of the San Diego County Board of Supervisors, joined officials from the San Diego County Water Authority and several of its member agencies, the San Diego County Taxpayers Association, the Industrial Environmental Association, and several other groups. In all, more than 30 agencies and organizations across the region have signed a letter to legislative leaders opposing the drinking water tax plan.
Encinitas City Councilmember Mark Muir, chair of the San Diego County Water Authority's Board of Directors and a member of the San Dieguito Water District Board, warned that the current water tax proposal would set a dangerous precedent. "It would be the camel's nose under the tent; what begins as a modest increase could quickly grow larger and larger as more projects and programs try to get into the tent," he said. "We've already seen proposals in Sacramento that could add more than $15 a month to residential water bills."
The tax proposal is being advanced through Senate Bill 623 by state Sen. William Monning (Carmel) and a Brown Administration budget trailer bill related to safe drinking water. The drinking water tax would initially raise about $135 million a year to help provide clean, safe water in disadvantaged communities, mostly in the Central and Salinas valleys, where groundwater has been contaminated by farming operations. In addition, approximately $22 million would be generated by a tax on fertilizer and confined dairy facilities. State legislators are expected to vote on the tax by mid-June, though the issue could extend into late summer.
Read More:
https://www.waternewsnetwork.com/wp-content/uploads/2018/05/TaxPrssConf.845X450-2.jpg
450
845
Gayle Falkenthal
https://www.waternewsnetwork.com/wp-content/uploads/2018/02/water-news-network.png
Gayle Falkenthal
2018-05-23 00:46:29
2018-06-26 17:50:04
San Diego County Coalition of Leaders Opposes Tax on Drinking Water