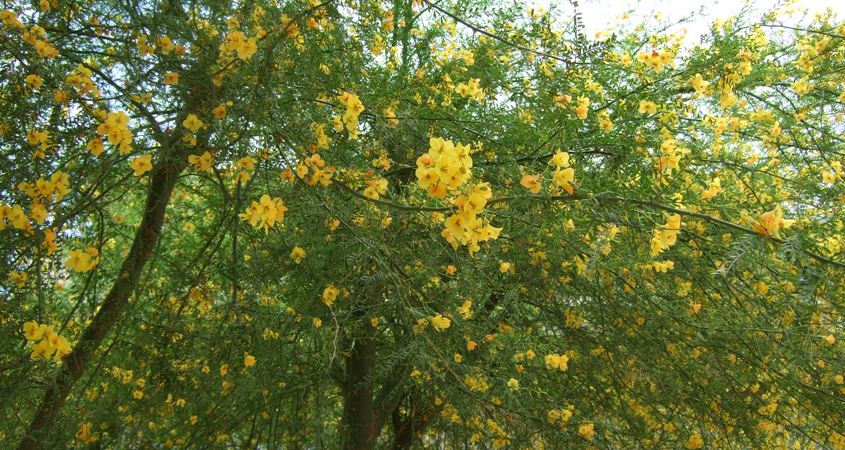 Planting trees improves water quality by reducing runoff and soil erosion. It's also good for the wallet. Healthy, mature trees can add an average of 10 percent to a property's overall value. 
Trees properly placed around buildings can reduce air conditioning needs by 30 percent, and can save 20 to 50 percent of the energy used for heating. 
Consider the mature size of the three when you first plant it. At the store, it's probably in a 15-gallon container, but a small tree will grow into a 30-foot tall tree with a 30-foot wide canopy of branches in a few years. If you have selected a large tree, it could be 70 feet tall and equally as wide.  
Make sure the placement of the tree is sufficiently far away from homes and other structures. Small trees (30 feet wide or less at maturity) should be placed no closer than 10 feet. Large trees (70 feet wide or more at maturity) should be planted at least 20 feet from houses.  

Five low water landscape trees
Not sure which trees are smart water-wise choices for the San Diego region? These are five favorites. 
Desert Willow (Chilopsis linearis) 
Desert Museum Palo Verde (Parkinsonia 'Desert Museum') 
CA Redbud (Cercis occidentalis) 
Catalina Ironwood (Lyonothamus floribundus) 
Hybrid Strawberry Tree (Arbutus 'Manna')  
Consider large shrubs as alternative choices
Large shrubs can be good choices for screening unwanted views. But be considerate of the viewshed of your neighborhood. Will the shrubs block a special view for others?  
Several of the best low-water trees and shrubs for screening are:  
Catalina Cherry (Prunus iliofolia ssp. Lyonii) 
Pacific Was Myrtle (Myrica california)  
Torrey Pine (Pinus torreyana) 
Tecate Cypress (Cuppressus forbesii) 
California Mountain Lilac (Ceanothus 'Ray Hartman')  
This article was inspired by the 71-page Sustainable Landscapes Program guidebook available at SustainableLandscapesSD.org. The Water Authority and its partners also offer other great resources for landscaping upgrades, including free WaterSmart classes at WaterSmartSD.org.    
https://www.waternewsnetwork.com/wp-content/uploads/2018/09/Palo-Verde-DanielleBardgette-CCFlickr-845X450.jpg
450
845
Gayle Falkenthal
https://www.waternewsnetwork.com/wp-content/uploads/2018/02/water-news-network.png
Gayle Falkenthal
2018-09-23 21:12:10
2018-09-23 21:12:10
More Trees, Please