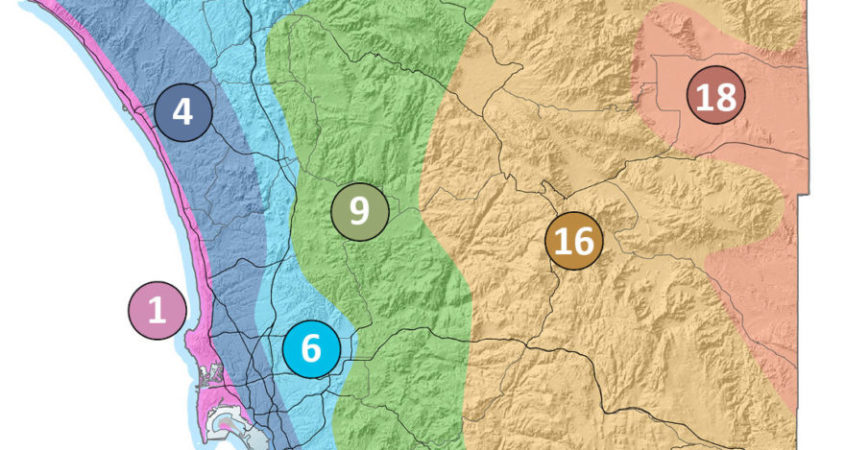 Your landscape's water needs go a long way toward determining your garden's design and your plant choices. By choosing wisely, you can minimize the need for artificial irrigation and still create a beautiful, sustainable landscape.
Under the California Irrigation Management Information System (CIMIS), San Diego County is divided into six climate zones: Coastal, Coastal Inland, Upland Central, Transition, Mountain and Desert.
This climate system provides you factors to help you understand which plants will thrive in your landscaping under its native conditions. Gardening in harmony with your local climate zone and your microclimate helps you use resources, including water, most efficiently.
Which CIMIS climate zone are you in?
Zone 1: Coastal Prairie
The Coastal Prairie zone hugs our county's coastline. It is the zone most strongly influenced by the ocean, with a mild marine climate resulting from the warm Pacific Ocean. Winters are mild, summers are cool, and there is almost always moisture in the air.
Zone 4: South Coast Inland
South Coastal Inland areas are just inland from the beach, or on high bluffs above the coastline. You can feel the ocean breeze, but you can't taste the salt in the air. There is less fog and humidity than the immediate coastal area, and higher temperatures.
Zone 6: Upland Central
The higher elevation Upland Central areas are influenced both by moist coastal air and dry interior air. Humidity, morning fog, and wind are moderate, with low annual rainfall.
Zone 9: Transition
This marine-to-desert transition climate is farther inland. It features a combination of warmer thermal belts and cold-air basins and hilltops, with occasional marine influence. The climate can vary from heavy fog to dry Santa Ana winds.
Zone 16: Mountain
Steep slopes, variation in sun and wind exposure, shallow soils and heavier rainfall affect plants in the Mountain regions. Average annual rainfall is 30 inches, and wet years can bring 45 inches or more.
Zone 18: Desert
Dry and hot daytime conditions combine with cold nighttime temperatures in the Desert zone. Humidity is very low, and water is scarce. Average annual rainfall can be as low as 2.5 inches, with an average of just 6 inches.
Learn more about the specifics of your climate and microclimate on the California Irrigation Management Information System website, and the Sunset Western Garden Book website.
This article was inspired by the 71-page Sustainable Landscapes Program guidebook available at SustainableLandscapesSD.org. Hardcopies are available free of charge at the Water Authority's headquarters, 4677 Overland Ave., Kearny Mesa. The Water Authority and its partners also offer other great resources for landscaping upgrades, including free WaterSmart classes at WaterSmartSD.org.
https://www.waternewsnetwork.com/wp-content/uploads/2018/04/Six-CIMIS-Climate-Zones-crop-e1523662627942.jpg
667
880
Andrea Mora
https://www.waternewsnetwork.com/wp-content/uploads/2018/02/water-news-network.png
Andrea Mora
2018-04-04 04:07:57
2018-06-26 17:50:37
San Diego's Six CIMIS Climate Zones