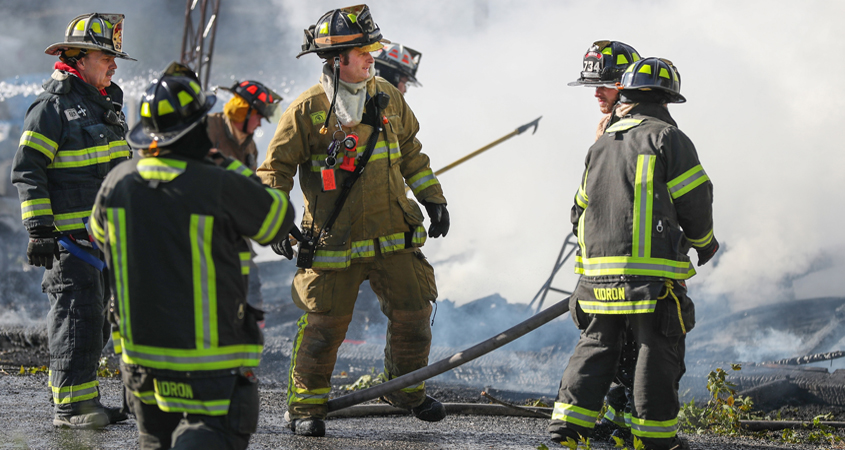 When residents in De Luz were forced to evacuate about 100 homes during the Rock Fire in July, an emergency generator installed by the Fallbrook Public Utility District proved its value by providing water to help firefighters extinguish the blaze.
The generator was installed about a year ago at the Donnil Pump Station at a cost of about $140,000. Since then, several fires have sparked in the hilly backcountry community north of Fallbrook.
The quick-burning Rock Fire broke out mid-afternoon on July 28 near Sandia Creek and Rock Mountain just south of the Riverside County line. The blaze grew quickly to 74 acres within two hours. Nearby residents were advised to evacuate, affecting about 100 homes.
San Diego Gas & Electric shut off the power for safety to 530 residents in the area at 4:12 p.m., according to information on the SDG&E outage website. The outage cut power to the pump station. FPUD kept water running thanks to the new generator, which is among several recent district projects and upgrades designed to maintain water service during emergencies.
The fire grew to 225 acres, but by 7:30 p.m. the forward spread was stopped. Power was restored gradually through the night, and the evacuation order was lifted the next morning.
Important community safeguard now in place
"Now, we can cover nearly all of the De Luz area during a power outage," said FPUD General Manager Jack Bebee. "Fire has the potential to quickly spread, so this is a very important safeguard to have in place."
The Donnil Pump Station conveys water from the San Diego County Water Authority's aqueduct to the high-pressure zone in De Luz. The station was built before FPUD merged with De Luz Heights Municipal Water District in 1990, and it serves as the principal pump station in that area.
The pump station was upgraded as part of the district's capital improvement plan. Without an emergency generator, water supply to the area could be cut off during a power outage. If that occurs during a wildfire, it could reduce flows for firefighters when they need it most to protect the community.
https://www.waternewsnetwork.com/wp-content/uploads/2018/11/FPUD-Firefighting-845X450.jpg
450
845
Gayle Falkenthal
https://www.waternewsnetwork.com/wp-content/uploads/2018/02/water-news-network.png
Gayle Falkenthal
2018-11-28 09:28:54
2019-01-02 18:28:00
Emergency Preparedness Pays Off for Fallbrook PUD